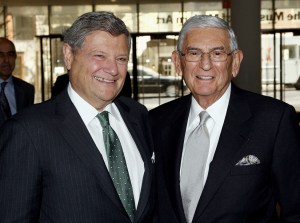 When Eli Broad put his full-floor co-op near the top of the Sherry-Netherland tower on the market for $15 million in September 2008, he was No. 48 on the Forbes Rich List. Two years later, he had fallen to No. 132—a good deal of his fortune was bound up in AIG—while the pied-à-terre of the Bronx-born, L.A.-based developer and art collector took a similar, if not quite so percipitous tumble.
According to city records, the two-bedroom home has sold for $8 million, down from a September ask of $9.9 million. "Featuring a meticulous triple mint renovation, an elegant floor plan and open views throughout, this sun-filled apartment is absolute perfection," declares Sotheby's Serena Boardman in her listing. She had just picked up the listing after Alexa Lambert and Marc Achilles of Stribling wrestled with it for two years.
The home boasts 360-degree views of the city, with the master bedroom, a library and the living room looking down on Grand Army Plaza. The buyer taking in those sites now is Bedford Falls LLC, which happens to be the name of a fictious town in It's a Wonderful Life. Perhaps the art buff has traded with a film buff.
Mr. Broad has been in the building for decades, at least since a profile placed him there in 1985. And he may not have given up the Sherry entirely, either, as city records show he bought a larger full-floor unit on the 25th floor in 2006 from cellist Lawrence Lenske, and there was a two-bedroom on the 23rd floor he owned in the 1990s.
Read past Manhattan Transfers. >>