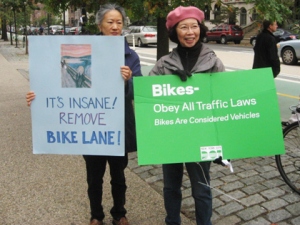 Park Slope Council Member Brad Lander held a hastily-arranged news conference on the steps of City Hall today to refute charges laid out in a lawsuit that seeks the removal of a bike lane in a tony neighborhood in Brooklyn.
The suit made the front page of The New York Times today, and the article lays out how bike lane opponents think that the Department of Transportation is doing the bidding of biking activists. The suit says accuses the city of subverting the public review process and acting in an arbitrary and capricious manner.
Lander refuted these charges.
"The Prospect Park West two-way bike lane is an enormous success and is overwhelmingly supported by Park Slope residents," he said. "A small group of opponents have chosen to bring a baseless lawsuit in an effort to…impose their will on the community."
The Times noted that the opponents of the bike lane are closely aligned with former D.O.T commissioner Iris Weinshall, who is married to Senator Chuck Schumer. The couple live across from the bike lane. David Seifman reported last month that Schumer has quietly been reaching out to Council members in an effort to quash the bike lane.
Schumer and Weinshall live on Prospect Park, but Lander said that the Senator has not approached him about it.
"I have not spoken to him ever about the bike lane and I can't speak to his involvement in it one way or the other," he said.
A spokesman for Senator Schumer declined to comment.
Lander was also asked why disputes over bike lanes have suddenly sprung out into the open in recent weeks, with a number of newspaper articles and op-eds taking up either side of the issue.
"That is a question for a Ph.D. in sociology. Like, what's up with the street wars? Why is this provoking so much passion and energy at the moment. I am not a Ph.D. in sociology. I am an elected official," he said. "Some people think, 'Wow, this is opening up the city to me in a whole new way and I love what it does to the street,' and a whole other set of people are saying 'I like my street the way it was and I don't know why we are changing it like this.' And then that gets mixed up with demographics and politics and media and the blogosphere and then you have this sociologically quite fascinating mix."
Lander was joined by half-dozen or so neighborhood supporters of the bike lane. After making his remarks he turned to them and said, "I don't know. Does anyone else want to offer their armchair sociology?"
dfreedlander@observer.com
twitter.com/freedlander