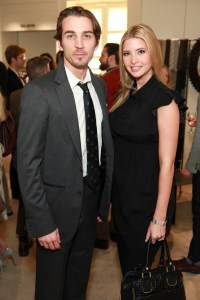 At the launch of Black Sweater, filmmaker (and Johnson & Johnson heir) Jamie Johnson's new men's wear line at Bergdorf Goodman, not even an epic hailstorm could keep the stampede of socialites away. The name comes from a WASP legend, in which an upper-class grande dame would send black cashmere sweaters to individuals she wished to banish from society for indecent behavior.
The clothes are billed as having elements of classic tailoring while pushing the limits of contemporary fashion. The line includes blazers, trench coats, trousers and the signature black sweater. Jamie has added a few "special touches" to the collection, like trousers with racy hand stitched cutouts: men holding tennis rackets on one side and naked women on the other. His signature black sweater has the names of great society destinations (Hobe Sound, Newport and Fisher's Island) hand-stitched on the cuffs, which can be conveniently rolled up out of view. The party was also thrown to celebrate tie-maker Alexander Olch's Spring 2011 collection.
Today, of course, the practice of explicitly expelling people from within the ranks of polite society no longer exists (although many undoubtedly wish it did). However, if the practice were still in place, who would this exclusive crew give a black sweater to?
Vanity Fair contributing editor Todd Eberle fingered the linen lining of one of the black jackets and said, "I'd give one to Victoria Jackson-that comedian who went on an anti-gay rant. What does she think she's doing?"
His friend Alexander May took a more political stance: "Sarah Palin. She could definitely use one, and, I mean, she needs to tone those bright colors down anyway."
A Ryan O'Neal look-alike named Hamilton introduced himself before turning away to admire a rack of gray flannels, showing the back of his green cashmere sweater riddled with moth holes. Todd sighed appreciatively after him, "This party is so haut WASP; I love that there are people called Hamilton wearing a sweater with holes in it."
Burgeoning filmmaker JC Khoury was eager to talk up his first feature film, "It's called The Pill, about a guy who has a one-night stand, takes the girl for the morning-after pill and his relationship with her in between the time she takes the first pill and the time she has to take the second pill 12 hours later. It's a mix of comedy, drama and romance, so I came up with 'romantic dramedy.'"
And who would he give a black sweater to? "Hmmm. Qaddafi. He's pretty out of line."
Most of the crowd appeared to know each other from schools, holidays abroad and clubs. The conversations drifting through the air could have been from a Fitzgerald novel, "Didn't I see you on Fisher's last summer? When are you heading up there?" "Can you believe this hail? I wish I'd decided to stay an extra week in Aspen." "Are you going to Jamie's dinner after at Desmond's?"
Despite the cocktail party atmosphere, the conversation kept returning to the host's clothes. One guest who preferred not to be named said, "These clothes are nice but expensive, that's what killed Tom Ford. I mean, how can these compete with J.Crew?"
The designer himself seemed to hang back from the crowd even though his attention was much in demand. Although it was rumored that Jamie had been shunned from polite society after his 2003 documentary Born Rich, The Observer saw no evidence of that, as members of the Rockefeller and Bloomingdale families were in attendance, as well as various American countesses.
How did he come up with the concept? "Well, I didn't, only because it was a pre-existing story and I found it interesting. Stylistically, the stuff draws on that faction of the upper class and the patrician world. I think it is routed in traditional tailoring. Men want a very classic look with subtle variations. There are these traditional tailoring references which come from uniforms, whether they are institutional references like schools or sporting uniforms or equestrian wear."
Has he abandoned film to become a clothing designer? "No, movies are happening; currently there is an HBO documentary going on. I can't get too much into what it is about, but a new film is afoot."
And who would he give his black sweater to? "The Kennedy cousin who crashed his car and claimed he was only on 'sleeping pills.'" Would he give a black sweater to Charlie Sheen? "I would definitely give a black sweater to Charlie Sheen-and a copy of Emily Post."