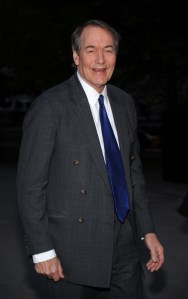 Peggy Siegel's tennis group was here Monday. A bevy of blondes and one or two brunettes took over a round center table in the Grill. I delivered a pink-and-plum-colored spring bouquet to their table, because I decided the ladies deserved some fresh florals. You can tell spring is in the air because half of the women had sunglasses perched on their heads throughout lunch.
Facing the ladies' lunch party was Charlie Rose–not Sheen!–and HBO's Richard Pepler. They sat shoulder to shoulder at a wall banquet next to Sandy Weill and Vartan Gregorian, who were drinking Bloody Marys. At the end of their meal Mr. Pepler, who was looking reliably tan, made his way around the entire table of ladies saying hello to almost everyone and stopping to chat with Christina Cuomo and Tory Burch. Quite the Casanova! He said he was going to take the check for their whole table but then he reneged!
Charlie Rose, in a pinstriped suit with no tie, stood waiting near the stairs with his arms crossed talking to me, while his lunch partner shmoozed. Then Peggy Siegel rushed over to him and pressed a folded document into his hands. "You wanna hear the inside story of the Oscars? Here! It's not out yet!" Can you imagine? She was distributing advance copies of her Oscars scoop coming out in the April issue of Avenue magazine.
Senator Kirsten Gillibrand lunched with a dark-haired man at what is usually the prince's corner banquet. She looked good in her black skirt suit and black-and-white-patterned shirt. They went over to say hello to Mort Zuckerman, who was at his table near the bar with an older gentleman. The two men stood up to greet the senator, and they must have said something funny because she was giggling like a schoolgirl!
On Thursday, we had a wonderful party for Larry Gagosian's opening of his show "Malevich and the American Legacy." It was quite the art crowd: Richard Serra and Ellsworth Kelly were both here sampling the all-white menu.
Pete Peterson was here last week eating a baked potato with caviar. He used to hate caviar, but now he has it all the time! Henry Kissinger came back this week–he wasn't around for a while, I think because he was upset about that Nixon opera. But he came for lunch on Monday with another gentleman and they were talking very intensely throughout the whole meal.
The prince has been coming every day. He sat at his table on Monday after Senator Gillibrand left. He told me he didn't want to be disturbed, so I took a big piece of paper and wrote in pink highlighter, "Do Not Disturb Einstein," and put it on his table! He ordered the Puntarella salad (a green root vegetable like chicory that we serve with anchovies), but he specified that he only liked the straight, asparagus-looking pieces–not the ones that branched out into two points.
"Oh, so you like little pricks!" I said.