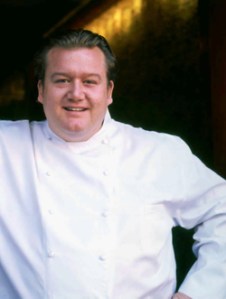 Last week, one of the hottest chefs in New York-hell, in America-turned a plastic crank, demonstrating a strawberry-red Tupperware hand mixer, the Whip 'N Prep, for a crowd of diners at a pop-up restaurant dubbed the TupperClub, in the penthouse of the Setai Hotel.On the menu? Nova Scotia lobster with burrata and eggplant al funghetto.
You might not expect to find Michael White at a Tupperware party, even a swanky one. Not with his restaurant, Marea, on Central Park South, attracting the likes of Bill Clinton, Michael Douglas, Sumner Redstone and Henry Kravis.
But it's a touchy time for the Norwegian food wiz. Two restaurants he helmed or founded-Alto and Convivio-closed unexpectedly on March 3, following Mr. White's split with his partner of three years, restaurateur Chris Cannon, and a lawsuit by waiters over allegedly plundered tips.
And so, the chef's colleagues and rivals said, he's on a bit of a goodwill tour.
Mr. White hooked up with Mr. Cannon after the restaurateur's infamous split with Scott Conant in 2007. They expanded swiftly, rebranding one restaurant and opening two more in three years. All were solid efforts, but nobody expected a spot as buzzy as Marea, which won the James Beard Award for best new restaurant last year.
Yet the White-Cannon love affair was short-lived. In August, Alto was hit with that class-action suit. (It is being settled, attorney Rachel Bien told The Observer.)
By January, the two men's Altamarea Group was kaput, reportedly over differences over who got credit for their success. Mr. Cannon declined to comment.
In the divorce, Mr. Cannon got Alto and Convivio; Mr. White and Ahmass Fakahany, the company's chief executive, got all the rest: Marea, Osteria Morini, Al Fiori in the Setai and two spots in New Jersey. Then Mr. Cannon closed his two.
"It's unfortunate," Mr. White told The Observer after the dinner, refusing to comment further. He also deflected questions about rumors that he plans to expand Osteria Morini, on Lafayette Street. He emphasized, however, after tweeting a related message to his 3,900 followers, that he liked Tupperware.
His guests would soon judge for themselves. The gift bag included a variety of products, including that Whip 'N Prep. But oddly, no bowls. A publicist explained patiently: "Tupperware's not just bowls." -Alexandra Peers