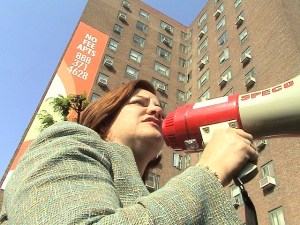 In this morning's Observer, David Freedlander looks at the unenviable position Christine Quinn is in, having to actually take positions on thorny issues like living wage legislation and paid sick days, something her likely 2013 rivals in the Congress, comptroller and public advocate's offices don't really have to do.
There is, though, a silver lining to her 2013 plans: she's forgoing an easy-funding technique that could, actually, help her reserve her campaign funds in the home stretch of a mayor's race.
The major 2013 mayoral candidates are expected to raise all the money they need for that contest. The challenge for the campaigns will primarily be to manage their expenses, which are capped by the New York City Campaign Finance Board at $6,426,000 for the primary.
When the latest campaign finance numbers came out, it was reported that one of Quinn's best-funded and likely opponents, Anthony Weiner, had "no activity with his account, other than some minor bookkeeping" according to a campaign aide.
Sort of.
Weiner had already raised about $4.5 million in his warchest, which is now sitting in a bank, collecting interest. All told, his campaign has collected $241,324 worth of interest.
Next month, when we all go to pay our taxes, Weiner's campaign is expected to pay taxes on that interest. Those tax payments will count towards Weiner's spending cap, according to NYC Campaign Finance Board officials.
Christine Quinn's campaign, though, won't have that problem.
Her campaign has made the decision to forgo earning any interest on the $2.76 million they've raised, putting it into a non-interest bearing account.
The reason? Taxes, according to one aide with knowledge of the campaign. This aide told me that in a tight race, every nickel saved now can go towards putting another operative making phone calls or handing out flyers in 2013.