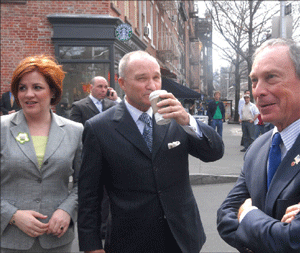 The City Council press office sent out word this morning that Speaker Christine Quinn is set to honor NYPD commissioner Ray Kelly with the "Irish Man of the Year Award" in a ceremony tomorrow night.
Quinn and Kelly are perhaps the two most prominent Irish-American officials in the city, and are both mentioned as potential 2013 candidates (although Quinn seems the more likely to throw her hat into the ring of the two.) Indeed, earlier this month, former mayor Ed Koch said that he was likely to back either of them for mayor in 2013.
The award is named after late Congressman and Queens powerbroker Thomas Manton.
Says Quinn:
"New York City is fortunate to have Ray Kelly as our police commissioner and we are proud to salute him with the Thomas Manton Irish Man of the Year award. Historic declines in violent crime began when Kelly first led the NYPD in the early 1990s. His return to the department after the attacks of September 11, 2001 helped restore New Yorkers' sense of safety and security when we needed it most. With his continuing efforts to keep our City, State, and Nation safe, Commissioner Kelly is an inspiring example of the great tradition of Irish American public service."