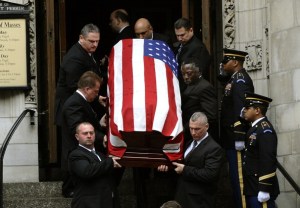 Hillary Clinton and a number of other female public officials recalled Geraldine Ferraro as a path-breaking icon and a fierce fighter for her family and her favored causes at a memorial service in Midtown Manhattan this morning among hundreds of her friends and family.
"She is seen correctly as paving the way for my political career and those of many other women," Clinton said. "We owe her so much. She stood where none of us had ever stood and comported herself with intelligence, toughness, humor and grace."
A host of political dignataries, including Gov. Andrew Cuomo and his father, former Gov. Mario Cuomo, Mayor Michael Bloomberg and Texas Senator Kay Bailey Hutchinson attended the service, which was held at the Church of Saint Vincent Ferrer.
Ferraro was memorialized not just by Secretary Clinton, but by her husband, former President Bill Clinton, as well as former vice-president Walter Mondale, former Secretary of State Madeline Albright, former California Rep. Jane Harman and Maryland Senator Barbara Mikulski.
Mondale, who catapulted Ferraro from a congresswoman from Queens into history when he selected her as his vice-presidential nominee in 1984 noted that there were only two women in the Senate then. There at 17 today.
He recalled campaigning with Ferraro in Mississippi after the Democratic convention.
"I remember a local farmer asked of her, 'Young lady, do you know how to make blueberry muffins?' I thought uh-oh. And she said, 'Yes. Do you?'"
Many of the speakers recalled Ferraro's vice-presidential debate with George H.W. Bush in 1984, in which she famously accused the Vice-President of patronizing her.
Mikulski recalled Ferraro as master of constituent service.
"And by the way, she loved earmarks!" she said.
Many of the speakers brought up Mondale and Ferraro's electoral rout in 1984, in which the duo lost 49 out of 50 states.
"I always thought of her as the vice-president of Minnesota and Washington D.C," said Jane Harman.
Hillary Clinton remembered attending the Democratic convention in San Francisco, where Ferraro was first nominated, with her daughter, Chelsea. She said that the Clinton family were able to corner her for a photograph on the floor of the convention.
She described Ferraro as a devoted friend.
"She was invested in my life just like she was in all of her friends' lives. Our battles were her battles. Our triumphs were her triumphs."
Clinton added, "When that day comes–and it will come—when a woman is elected president or vice-president, we will know that Gerry helped make it possible."
Bill Clinton cited an article in a newspaper yesterday that said that Ferraro's native Queens now has a near-equal number of Asian, Hispanic, and black residents, and he said that all of the children there would benefit from Ferraro's path-breaking example.
"In their homes tonight, there are children–little girls and yes, little boys too–who will be just a little closer to having their shot at the American Dream because she lived."
Ferraro died this week after a long bout with blood cancer. She was 75 years old.