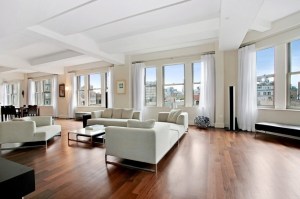 A sleek prewar loft in the middle of Greenwich Village seems like the perfect home for Chipotle founder Steven Ells—a wrap of modern comfort made from authentic, homey ingredients. Yet Mr. Ells bought his burrito-sized seventh-floor spread at 147 Waverly Place in March 2008, only to put it back on the market a month later. In late 2009, he grabbed the far more traditional—call it a steak dinner—penthouse at nearby 40 Fifth Avenue.
"They started in 2005, and it wasn't until 2008 that there were closings," listing agent Robby Browne of Corcoran told The Observer, referring to the conversion of the property from offices into condo lofts. "It took so long to get them in, they had to do something else with their families."
SLIDESHOW: Thirty Windows for 360-Degree Village Views at 147 Waverly. >>
Mr. Ells bought the 3,375-square-foot loft for $5.75 million, relisted it for $7.25 million that April, rented it a few months later, and now it has sold for $6.1 million to Sam Frankfort, according to city records. He is the 32-year-old son of Lew Frankfort, the Coach CEO who transformed the stodgy $6 million-a-year purse maker into a behemoth $3.6 billion international brand. "The guy who bought it is so happy," Mr. Browne said, without revealing who the buyer was.
The three-bedroom has a master suite on a small wing off the pentagonal-shaped loft. The home's marquee feature is the 30 windows, including a 60-foot-long wall of them running along a huge great room, which includes the kitchen, dining and living rooms and a library. "Nothing in the Village has views like it," Mr. Browne said. "From the seventh floor up, you can see the Washington arch, Battery Park City and up to the Empire State Building, and because it's in the historic district, all the views are protected. You'd have to go to the river for anything close, but then you're not a block from the subway."
For those looking for their own 360-degree Village views, Mr. Browne mentioned that he just put the listing for the ninth-floor unit on the market for $7.5 million. It features four bedrooms, a fireplace, "and sustantially better views," the broker said. According to StreetEasy, the aristocratic-sounding Alastair Tedford—co-founder of private equity outfit Albion Investors—bought the home for $5.96 million in July 2008.
"It's one of the coolest buildings in the Village," said Mr. Browne, who had the listing with fellow Corcoranites Chris Kann and Greg Sullivan.
SLIDESHOW: Thirty Windows for 360-Degree Village Views at 147 Waverly. >>
Correction: A previous version of this article misspelled Mr. Browne's name without the "e." The Observer regrets the error.
Read past Manhattan Transfers. >>