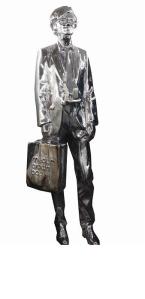 The Andy Monument, artist Rob Pruitt's sculpture of the late Andy Warhol, is being unveiled in Union Square this week. It stands not far from the Decker Building, which housed the second Factory, the one where Valerie Solanas shot Warhol in 1968. So it should perhaps be seen as the Public Art Fund's belated catch-up to this city's myopic failure to establish the Andy Warhol Museum here (it's in Pittsburgh, a city he grew up in and hated), just as London let Francis Bacon's studio go to Dublin.
To create his 10-foot-high Warhol monument, Mr. Pruitt dressed Andy Stillpass, a Cincinnati collector who has the same body type as Warhol, in the artist's 1970s fashion, and scanned him with a laser, erasing physical details. "So that it looks as though it has been dipped in liquid mercury. It has a mirror finish," said Mr. Pruitt.
Like the android in the Terminator movie?
"I was trying to make Andy as blank as possible. Having the iridescent surface, he reflects the environment around him. Like a police siren rushing by in the evening, and the activity in the farmers' market and the life in Union Square Park."
Just what had Warhol meant to Rob Pruitt, I wondered?
A great deal. Both of them, at one time or another, were exiled from the Haute Art World. For both, it's been a comeback story.
In 1992, Red, Black, Green, Red, White, Blue, a show by the then-duo Rob Pruitt and Jack Early, opened at the prestigious Castelli Gallery. A riff on black culture that explored stereotypes, this exhibit, by two white men, was roundly chastised for supposed racism. The Pruitt-Early team splintered under the pressure, and all but disappeared from the art world.
Mr. Pruitt came back to attention in 1998, and with panache. A couple of artists who shared a studio space on 14th Street organized a group exhibition and asked him to be in it. So he shelled out several hundred dollars and laid out a long line of cocaine on the floor.
How long did the now-infamous piece, Cocaine Buffet, survive?
"Nothing was spoken about it. It was just simply there in the center of the space," he said. People "didn't know if it was baby powder or sugar or the real thing. The trepidation lasted for about an hour. Then, somebody fell to their knees. Then there were three brave souls. They broke the ice. … And then it just became like a free-for-all." The cocaine "only lasted for about 10 more minutes," the artist said.
Did that mark Mr. Pruitt's reentry into the art world?
Well, Artforum lauded the artist's "brilliant promotional strategy," and by 2001, he'd done an edition of prints for the New Museum; been featured in Visionaire, among other glossy publications; and opened a well-reviewed show of glittery panda paintings at Gavin Brown Enterprise, a gallery known for its savvy artist marketing.
"I think that the cocaine line was also a line in the sand. People were able to see me new again," he said.
Indeed, since then it's been hard to lose sight of Mr. Pruitt, in his role as the art prankster who is also serious. In 2009, approached by the Guggenheim Museum about spicing up its annual fund-raising gala, he launched the tongue-in-cheek Art Awards, which quickly became the art world's straight-faced version of the Oscars, complete with hosting duties by James Franco. To make his career recovery complete, last fall the Tate Modern staged a partial remounting of Red, Black, Green, Red, White, Blue, ironically hanging it not far from some Warhols.
What with Andy Warhol's similar (if posthumous) comeback from obscurity, was there some kind of theme here?
"Having a comeback is part of the narrative of the American success story," said the artist. "That is certainly never lost on anybody, whether it be Warhol or any other figure who has peaks and valleys.
"I think that one of the themes of my work is that of the celebrity narrative or trajectory, how it's like any other constructed narrative … that there is a rising action and a falling action. But I think when you're living your own life, it's hard to do an autopsy of it. You just end up living it."
The Andy Monument is on display through Oct. 2.
editorial@observer.com