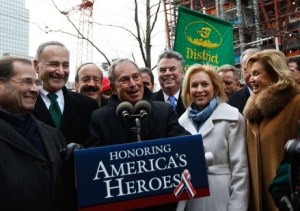 A number of members of the New York City Congressional delegation gathered at City Hall this afternoon to discuss with Mayor Bloomberg and members of his administration strategies to blunt some of the cuts being proposed by the Republican House of Representatives.
"These cuts are real and they are deep and they are going to hurt people," Congresswoman Carolyn Maloney said. "It is a serious time for the city and we are talking about ways we can combat it."
According to one source present, the members of Congress briefed the administration on which programs the Republican majority is most likely to cut, while administration officials, including Howard Wolfson, budget director Mark Page and representatives from HPD and NYCHA, explained how specific cuts would hurt the city.
"The delegation was telling the administration was the scene is like on the ground, what they are hearing, what arguements are moving and what arguments aren't moving," said a source.
Added Maloney, "If they are going to cut programs we should have all hands on the deck before the hatchet falls."
Last week the House passed a continuing resolution to fund the government for two more weeks until a further agreement is reached to curb government spending. Today an Illinois lawmaker said that Democrats would have to come up with an additional $30 billion in cuts.
Besides Maloney, representatives Ed Towns, Yvette Clark, Jose Serrano, Charlie Rangel, Nydia Velazquez and Joe Crowley attended. Not present was Congressman Michael Grimm, who, as the city's lone member of the House majority, might have more influence over the budget decisions than the more senior members who are in the minority.
The meeting was called by Rangel.
Also not present was Congressman Anthony Weiner, although perhaps he won't have to explain what he would do to the mayor's precious bike lanes.