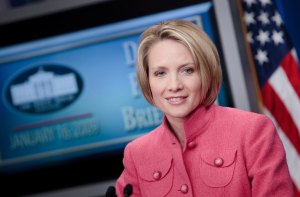 Publisher's Marketplace reports that former White House spokeswoman Dana Perino has been named editorial director for Crown Forum, the conservative imprint home to George Will, Joe Scarborough and Ann Coulter.
Ms. Perino is expected to "acquire and edit six to eight titles annually," and will work out of Washington D.C.
Since leaving the Bush administration, Ms. Perino has been working as a Fox News commentator.