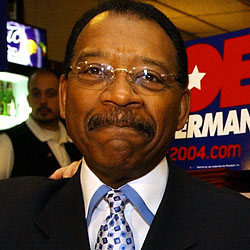 Bronx State Senator Ruben Diaz took to the floor of the State Senate yesterday to decry in typical Diazian terms his colleagues' acquiescence on the budget.
First he took his colleagues to task for giving Governor Andrew Cuomo all the authority to close prisons–an issue which is more of a concern for upstate Republicans–and then, the self-described "black guy with the kinky hair from Puerto Rico" asked what the use of having a legislature is, if they are just going to trust the governor to do the right thing.
"Shame, shame shame," he said. "Do you people understand what you are saying. We have an on-time budget, but do whatever you want governor, but we have an all-time budget."
Then Diaz all but accuses the Senate of being subsumed to Cuomo's presidential aspirations.
"Trust Governor Cuomo? He wants to be president. Governor Cuomo wants to be president, and he would do anything to be president. He would take away the Medicare from the people, he would take the services from the poor, he would take the money from education…he would put everybody on the unemployment line and then he would say, 'I balanced the budget. Elect me for President.'"
This doesn't sound much like a winning platform to us, but see for yourself: