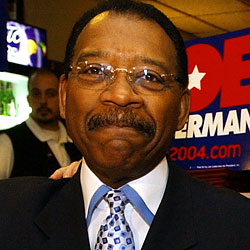 The New York Times reports that Andrew Cuomo is convening a meeting a high-ranking LGBT officials, including Council Speaker Christine Quinn, Assemblyman Daniel O'Donnell and State Senator Tom Duane in order to strategize for a push to legalize same-sex marriage.
Needless to say, this doesn't sit well with Bronx Democratic Senator Ruben Diaz, a Pentecostal minister and fervent opponent of same-sex marriage.
"How can the issue of homosexual marriage demand the governor's attention at this critical time when we are supposed to be dealing with the Budget to protect the poor and the needy?" Diaz said in a statement. "Does Governor Cuomo think he's really gaining headway with such little time to spend on the urgencies of the day – which include maintaining minimal educational services and healthcare services in New York State? "
In 2009, the Senate defeated same-sex marriage 38-24 with Republicans united in opposition. Many Democrats who were opposed to same-sex marriage were voted out of office last year after a major organizing effort by equality advocates. To pass the measure however, backers would need to peel away more than a few Republicans, since Diaz seems unlikely, to say the least, to join his Democratic colleagues in support.
Meanwhile, Cuomo sent out the following statement after the meeting adjourned:
Today's meeting was one in a series of many meetings to discuss a marriage equality bill. Same-sex couples deserve the right to join in civil marriage, and it is simply unfair to deny them the freedom to make this decision for themselves and their families. To me this is more than just a piece of legislation. This is about the lives of people who I have known for many years, who currently are without the rights to which they are entitled. I look forward to working with lawmakers and stakeholders to make sure that New York joins the growing number of states that allow the freedom to marry for all couples."