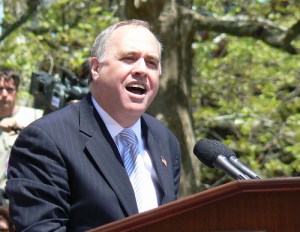 Central Brooklyn seems to be where the political action is these days.
This morning Deirdra Towns confirmed that she would in fact run for the Assembly seat being vacated by her brother Darryl, setting off a pitched battle.
And now a reader passes along a flyer for a fundraiser for Olanike Alabi, that will feature State Comptroller Tom DiNapoli. Alabi was elected district leader in the area after ousting Freddie Hamilton in 2006.
And why would an off-cycle district leader need to hold a fundraisier? Probably because Alabi has been often mentioned as a possible candidate for Hakeem Jeffries' Assembly seat, should Jeffries vacate it to run for Congress.
The email invitation to the event, from Karl Garlid, a local political activist, makes plain the fluid dynamic of the area's political scene.
"Over the next few years, the political landscape in Central Brooklyn is expected to change and we await with great expectation to see what her next move will be," he writes.
Walter Mosley, who is the male district leader in the area, is also said to be interested in running for the Assembly seat if it becomes available.
Here's the info on the Alabi-DiNapoli fundraiser:
You are invited to join New York State Comptroller
Thomas P. DiNapoli
at
a fundraiser and reception in support of
OLANIKE ALABI
State Committeewoman / District Leader
57th Assembly District
at the lovely home of
Karl Garlid & Mary Meyer
111 Cambridge Pl.
(b/w Fulton St. & Gates Ave.)
6:30pm – 8:30pm
Bklyn, N.Y.
Thursday, April 14, 2011
___$50 ___$100 ____$250 ____$500 ____$1000 ___$2500 ____Other
Please make checks payable to: "Friends of Olanike Alabi".
P.O. Box 75
Brooklyn NY 11238
For information or to RSVP, call (718)398.0750.