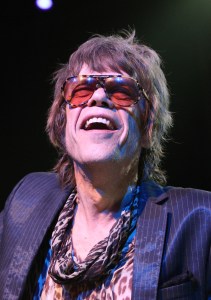 "It was like falling off a bicycle," said David Johansen. He was talking about restarting the New York Dolls in 2004 at the behest of no less a fan than Morrissey. "We've been doing this longer than the original band. It just feels right. We get together, we do a record. It's kind of an enjoyable way to spend your time. If we reach perfection, we'll know there's nowhere to go."
At dinner last Friday in the garment district, with his girlfriend, Mara Hennessey, Mr. Johansen was looking slick but a little exhausted. His schedule for the next few days was a daunting regimen of rehearsals, radio appearances, an in-store spot at the Union Square Best Buy and the pair of shows at the Bowery Ballroom, Wednesday and Thursday, that will celebrate the release of the Dolls' latest album, Dancing Backward in High Heels.
Though Mr. Johansen has inhabited several musical personas over the years (as loony lounge Latin crooner Buster Poindexter for much of the 1980s; a stint going old-timey fronting a band called the Harry Smiths), working with his longtime collaborator–the only surviving member of the original Dolls–Syl Sylvain makes Mr. Johansen most comfortable.
"I was reading about Americans, and confidence, and how deluded they are," Mr. Johansen said. "Like way overconfident. We think we can do everything. We can't do anything! Well, I require that kind of confidence to go into the studio and in three weeks make a record with Syl, and to get into rehearsal tomorrow and get up onstage next week.
"Every time I go through a trip like the Harry Smiths thing, it nurtures me," he said, "and nourishes me, and giving me, subconsciously, so much information that I like, and it's with me when I start writing, but it just kind of comes out.
"What makes a Dolls song doesn't have as much to do with what we started out doing," said Mr. Johansen, "which was making up songs around what we could play. So there was even less criteria then! But that's not something you can really intellectualize. We never set out to make punk rock. We didn't have that word back then, even. That U.K. deal, burn it down, that was their thing. And that punk was the most limited genre. If I was gonna put a name on it, the farthest I would go would be pop music; I just wish it was popular! But 'punk,' I don't like."
Though it has by far been his most fruitful collaboration, working with Mr. Sylvain, a friend for several decades, has its downsides, too, as when he recently let slip a tour plan for the summer meant to be kept secret. "Yeah, Sylvain Assange–Syl let it slip that we were touring with Mötley Crüe this summer, and it went viral, so here we are."
Ms. Hennessey's daughter's
band, Make Out, is opening for the Dolls at the Bowery shows. "I had nothing to do with it!" she claimed.
Both Mr. Johansen, 61, and Ms. Hennessey, 48, were looking strikingly thin and well manicured. She was wearing a big gauzy scarf over a fuzzy black vest, her pale eyeliner sparkling under her jet-black hair. Behind his slightly tinted tortoise-shell glasses, Mr. Johansen was always trying to lock eyes while speaking.
Just before eating, Mr. Johansen and Ms. Hennessey popped pills, presumably to aid in digestion.
"Is it al dente enough?" Ms. Hennessey asks about The Observer's pasta. Then came the recommendations of great pasta joints on Staten Island, Mr. Johansen's native borough, where he recently returned to live (part time) for the first time since he was 17. (He is helping to care for an aging aunt.)
Aside from the weekly show he hosts on Sirius Satellite Radio, Mr. Johansen is defiantly analog in his tastes.
"I used to love to go into Tower Records up on the West Side; there was a guy there named Sasha, and I really liked a lot of the records he liked, and then that leads to exploring other things about that artist and all. I miss it. I don't lament it, but it was good."
He trailed off, as he would throughout dinner, exploding excitedly in answering a question only to pull back, reconsider, drift away. The tendency became more pronounced when he was asked about his relationship with New York.
"New York's a good place to keep your stuff!" he said. "I couldn't even begin to describe to you what this city means to me." He started to chuckle. "I grew up here and I was never like, 'Oh, wow, the big city!' But then you go somewhere else, and you're like, 'Ewww.'"
editorial@observer.com