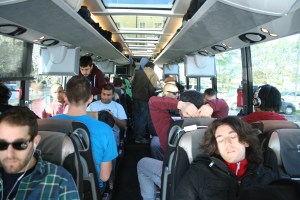 Judges won't decide the winner of the Startup Bus competition until tonight, but investors at South By Southwest are already jumping on the bus companies.
Three incubators have offered spots to Startup Bus companies, including one which suggested automatic entry for the winner or at least an invitation, which would mean a $25,000 investment. At least one company was offered $10,000 by an angel investor. One angel told Startup Bus founder Elias Bizannes to "name his price" for a short list of companies which included most of the semi-finalists and some that didn't make that round.
But Bizannes is telling the angels to back off and advising buspreneurs to turn their suitors down.
"I'm telling everyone not to sign yet on anything as they can do better," he wrote in an email. "Instead I'm telling people individually (and hopefully to everyone eventually) to make the life decision if they want to go ahead with this, and pending that and the team they reassemble with, I can get them funded with more and better terms.
"Due to my role an an Angel List scout, I can raise $50,000 as a minimum," he said.
Wise words, as an early survey taken on the New York bus showed only about a fifth of the buspreneuers were interested in continuing with their projects. Most teams have between four and seven members–a lot of day jobs to quit.
The pressure from pitching and being pitched to by investors has also started to cause tension in some of the teams, especially since some buspreneuers have never taken funding before and are unfamiliar with the process.
"The reason I'm trying to nuke these deals is because StartupBus is a people accelerator, not a seed accelerator. And while I don't doubt some real businesses will be created this year, that was not the intention of the program we designed," Mr. Bizannes sad. "I'm trying to design StartupBus so that it develops people, so that whatever they worked on StartupBus is simply an indicator but not a determinant of seeing them succeed in the future. Meaning, using it as process to in future help them fund their dream businsess or get recruited into their dream job."
ajeffries [at] observer.com | @adrjeffries