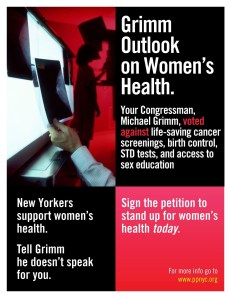 If you want further proof that the 2012 Congressional campaign season is already heating up, Staten Island Congressman Michael Grimm is facing the prospect of not one but two protests today by liberal groups.
In the morning set, Planned Parenthood gathered at the Staten Island Ferry Terminal to pass out flyers knocking Grimm for voting in favor of the Pence Amendment, which would have defunded their organization and would have eliminated Title X funding.
"A vote like this shows a clear disregard for the health and welfare of his constituents, and for women across the country," said Joan Malin, President and CEO of Planned Parenthood of New York City.
The group also said that Grimm has refused to meet with them.
And them in the afternoon set, in honor of the first anniversary of the passage of the Affordable Care Act ("Obamacare," in the parlance) the Staten Island Democratic Association rallied to protest Grimm's vote to repeal the bill. Protesters held up signs touting the bill's benefits.