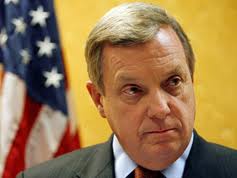 What a radical idea. On the heels of Peter King's controversial hearings on homegrown Muslim extremism, Senator Dick Durbin announced that he will hold hearings on rising anti-Muslim prejudice, which has included resistance to mosque construction, Koran burning and increased incidents of hate speech.
"Our Constitution protects the free exercise of religion for all Americans," Durbin said in a press release. "During the course of our history, many religions have faced intolerance. It is important for our generation to renew our founding charter's commitment to religious diversity and to protect the liberties guaranteed by our Bill of Rights."
Durbin chairs the newly-formed Judiciary Subcommittee on the Constitution, Civil Rights and Human Rights.
In the lead-up to King's Homeland Security Committee hearing, and during the hearing itself, it was suggested that Democrats should stage a counter-hearing, though Durbin's staff has discounted any connection.
Critics of King denounced the hearing for singling out American Muslims, rather than examining all domestic extremists. During the hearings, King had strong words for the Council on American-Islamic Relations, saying the leading Muslim civil rights organization was "discredited."
Witnesses scheduled to testify include Muslim civil rights leader Farhana Khera; Cardinal Theodore McCarrick; Assistant Attorney General Tom Perez, the Obama Administration's top civil rights official; and former Assistant Attorney General Alex Acosta, the Bush Administration's top civil rights official.