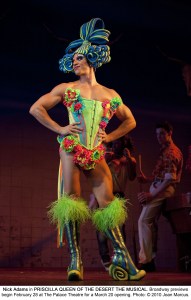 It's not easy to dramatize the almost sexual excitement of intellectual discovery. Aaron Sorkin has failed at it twice: in Broadway's The Farnsworth Invention, which chronicled the birth of television and played as a well-produced book report, and in his Oscar-winning screenplay for The Social Network, which required HTML coding to masquerade as legal procedural. But the brilliant Tom Stoppard nails it in Arcadia. The play leaves its audience breathlessly enraptured as various researchers, mathematicians, gardeners and poets puzzle out the history of a grand English estate, two-century-old literary mysteries and the second law of thermodynamics.
Mr. Stoppard's 1993 masterwork–which opened last week in a fast-paced and elegant revival at the Ethel Barrymore Theatre, directed by David Leveaux, who also directed a much-praised revival in London two years ago–tells two interweaving stories set at the same country house, one in 1809 and the other in the present, as modern-day academics try to unravel what happened there more than 200 years ago.
It's as packed with facts and ideas as any of Mr. Stoppard's works–his characters expound on English history, Newtonian physics, Lord Byron, iterated algorithms and entropy, among other things–but it's also, it seems to me, far more accessible than many of his other works. (The acclaimed Coast of Utopia exhausted me.) As the scenes alternate between 1809 and today, we watch the earlier story reveal itself just as the modern researchers discover it for themselves, allowing us to share in their anticipation and exaltation. Their curiosity becomes our curiosity; their satisfaction is ours, too.
But the pleasure of this play is not just in its ideas; it's in its boisterous humor and rich characters too. Mr. Stoppard has created a group of charming kooks, eccentrics both Victorian and modern, and Mr. Leveaux has assembled a generally excellent cast for it.
The biggest names are in the modern era: Billy Crudup plays Nightingale, a Bryon scholar, as an over-the-top caricature of a smug, self-impressed, preening academic; Raúl Esparza is Valentine, the aristocratic family's modern scion and a mathematician, and he's charmingly, knowingly self-involved. In 1809, Tom Riley is thoroughly engaging as the intelligent and ironic tutor Septimus.
But it's Lia Williams as Hannah, a gardening historian at the estate in modern times, who most dynamically conveys the thrills of uncovering new information and making connections. There are always limits to what we can know, Arcadia reminds us; we're each privy to just a snapshot of a chaotic universe that's headed toward destruction. (Those damned thermodynamics.) So what's the point of the whole exercise, and all this thinking? "It's wanting to know that makes us matter," Hannah says. "Otherwise we're going out the way we came in." And Mr. Stoppard wants us to want to know, whether we know we want to or not.
The production that opened at the Palace Theatre Sunday night is, to be very clear, Priscilla Queen of the Desert The Musical, and those last two words are always present, on the marquee, in Playbills and in the preshow turn-off-your-phones announcement, which also addresses theatergoers as "possums." This is not Priscilla Queen of the Desert The Restoration Comedy, the producers want to make clear, not Priscilla The Pinter Play nor even Priscilla A Gay Fantasia on National Themes. (Perhaps it is a little bit that last one, if the nation in question is Australia.)
Presumably this specificity in titling is a rights issue, because from the moment you walk into the cavernous Palace and see a neon map of Australia on the act curtain, a lunar disco ball hovering high overhead and a giant, Oldenburgian lipstick standing erect at the lip of the stage, there's little possibility of confusion. You wouldn't even mistake Priscilla The Musical for Priscilla The Movie, which was released in the summer of 1994 and told a sensitive story about a trio of drag queens asserting their identities and discovering their self-worth (and, yes, singing some campy songs) while on a trip across the Australian outback.