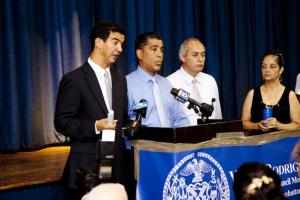 Cool it, councilman, say both City Councilman Ydanis Rodriguez and State Senator Adriano Espaillat after Councilman Robert Jackson said the duo are smearing him as an anti-Dominican racist.
"I feel sorry that my colleague drove the debate to this level," Rodriguez said. "He knows this is not the right approach to deal with differences that an elected official has with his colleagues."
The dispute between Jackson and the lawmakers burst into the open today during a hearing about Columbia University's plans to expand their sport facilities at the tip of Manhattan. The proposed expansion sits in Jackson's district but adjoins Rodriguez's. Councilman Rodriguez said however that, as the earthquake in Japan shows, district lines are of little importance to issues that matter to entire communities.
"It is one thing we can look to the disaster in Japan for, it is not the districts we represent but the area as a whole."
Both Rodriguez and Espaillat said that while they were generally supportive of the plan, they felt like the community had been cut out of discussions about it. Epsaillat said that he only heard of today's hearing over the weekend, and that his office fliered the neighborhood to alert residents about it.
"The entire community only knows bits and pieces [of what is proposed]" he said. "Thousands of people use the park from both council districts. Since the project also touches parkland it is fair for have a say on what happens there."
Rodriguez and Espaillat denied that they called or insinuated to anyone that Jackson was anti-Dominican, and similarly denied that they harbor a grudge because Jackson supported Espaillat's opponent, Mark Levine, for an open State Senate seat last year.
"That was a long time ago," Espaillat said.
The duo said that they were working with Columbia in order for more community voices to be heard. A town hall meeting on the issue is slated for Sunday at Columbia. Rodriguez and Espaillat have said they will attend, as have Congressman Charlie Rangel and a host of others representing the area. As of press time, Councilman Jackson has not confirmed his attendance.