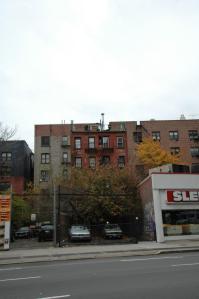 Gary Barnett's love for Soho may have turned out to be star-crossed.
The tower-loving developer went on quite the Soho shopping spree in the early part of the last decade. Under the guise of Soho Love LLC, his company, Extell, purchased four lots from 180 through 186 Sixth Avenue, right next to a Sleepy's mattress store, with zoning rights for 15-story residential development. Now the developer has sold the long-fallow site for $17.08 million to Texas investment firm Tavros Capital Partners, city records show.
Extell purchased the lots for a bargain $1.8 million in 2004, according to city records. The reason for the discrepancy in prices is unclear, but it might have something to do with subsequent work the developer did on the site: Extell requested (and received) permission to demolish several brownstones in 2007, according to Department of Buildings records. Since then, no more requests have been filed with the agency.
Around the same time, the developer also purchased the former site of the Moondance Diner and announced plans to build a hotel at 68-74 Charlton Street to rival the Trump Soho. Other than a now-troubled condo conversion at 470 Broome Street, most of these projects have been moving ahead but slowly.
UPDATED: George Arzt, a spokesman for Extell, said the developer planned a development but saw an opportunity to turn a "good profit" on the site. "We're concentrating on some other projects," he said, though he declined to disclose more details.
lkusisto@observer.com