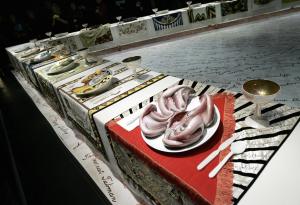 On an evening last week at the Museum of Art and Design, Judy Chicago, vivid and flamboyant in a white silk bolero embellished with black lace, pointed to a boldly graphic tapestry titled Paddle Your Own Boat, and laughed. "People never get that there is humor in my work, but I think this is funny." The piece depicts a woman manning a canoe, whose progress is being seriously impeded by wailing children, chiding relatives and a huge globe of the world. "I often say about this image that in all my years of working with women, I have never actually seen a situation where somebody set off to paddle a canoe and didn't get grief from somebody–whether it's the church, the community or their family."
Ms. Chicago has had her share of grief. Her infamous 1970s piece The Dinner Party drew standing-room-only crowds at the San Francisco Museum of Art, where it opened in 1979. (It's an installation of a giant triangular table, including the names of 1,038 female innovators–39 of whom have their own place settings with plates depicting vulvas.) But some critics eviscerated the work, and its museum tour was canceled amid Congressional debate over funding for the institutions that showed it. The Dinner Party itself was banished to storage for nearly three decades.
"The Dinner Party went into storage and I went into shock," said Ms. Chicago, a small, passionate fireplug of a woman with short red curls and rose-tinted glasses. "It was the piece everyone wanted to see, and nobody wanted to show."
This is not a problem Ms. Chicago suffers from much these days. The artist was included in three New York exhibitions last year: at ACA Galleries; at the Hebrew Union College Museum; and in a Jewish Museum show. This month, a show of her tapestries, done in collaboration with weaver Audrey Cowan, opened at the Museum of Art and Design and runs through June 19.
As for The Dinner Party, the piece is now on permanent view at the Brooklyn Museum's Elizabeth A. Sackler Center for Feminist Art. That's a vindication for the artist, considering that it was widely and publicly panned–conservative Congressman Robert Dorman, dubbed it "ceramic 3-D pornography" on the floor of the House of Representatives, and The New York Times pronounced it "very bad art." ("It reiterates its theme … with insistence and vulgarity," argued the paper's Hilton Kramer.) Today, nearly one-third of all the visitors to the museum view her artwork, according to the institution.
At first glance, the tapestries in the MAD show appear to be among the more decorous of Ms. Chicago's works, which tend more toward painting and sculpture. But, the woven works, along with the black-and-white and color images, "cartoons" and woodcuts Ms. Chicago created as patterns for Ms. Cowan (who first worked with her when she did the stitch work on the Dinner Party Eleanor of Aquitaine table runner), they forcefully weave together many of the artist's central–and resolutely political–themes.
Ever the radical, she's subverted pretty much everything about both the medium and its message. She has used the ancient Aubusson high-warp weaving technique, employed to make the famed medieval Unicorn Tapestries, which pregnant women were barred from practicing in the Middle Ages. They were told they might fall off the looms and miscarry, she explained. "Any excuse would do," Ms. Chicago snorted. "The idea of using Aubusson [named for the city in France] was particularly delicious to me because it originally prohibited women because of their fecundity and capacity for birth."