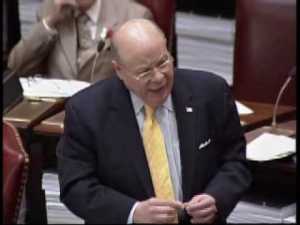 Brooklyn State Senator Carl Kruger surrendered to authorities only this morning, but already the talk in political circles is over who will replace him.
In several conversations with Brooklyn pols and political insiders the names that emerge most frequently are City Council member Lew Fidler and Igor Oberman, an administrative law judge who works part time as a liason to the Russian-American community for borough president Marty Markowitz. Oberman explored running against Kruger in 2010 before dropping out, a move which could hurt him.
"He sort of puttered out the last time around," said one political insider who lives in the district. "People are wondering what the story is with him. He says he is going to run and then suddenly goes and works for Marty?"
Fidler is a popular city councilman who will be termed out in 2013. He has also been mentioned as a potential candidate for Brooklyn District Attorney or Brooklyn Borough President, but if he was in the State Senate he would be able to continue to keep his law practice.
"If Fidler is in this race, it's his to lose," said one Brooklyn political insider.
City Councilman Domenic M. Recchia, Jr. also lives in Kruger's district, but he now has a prominent place in the City Council as Finance chairman, and is said to prefer a run for city comptroller should John Liu run for mayor.
Assemblyman Alec Brook-Krasney, who recently hired fundraising powerhouse Cindy Darrison, told The Politicker that he is "probably not" interested in pursuing the seat.
"I still have things to do in the Assembly," he said. "It is just difficult to deal with–the whole situation in the Senate. I don't think I would be able to help my district properly."
Brook-Krasny is currently in Diane Savino's Senate district, and would have to live in Kruger's district for a year before he could run for the seat. At this point it is unclear whether, or even if, Kruger will resign. If he resigns mid-term, it will set up a special election and the candidate on the Democratic ballot will largely be determined by the Brooklyn Democratic Party.
The district voted 55-45 for John McCain over Barack Obama in 2008, but it is generally seen as a reliably Democratic seat. Kruger has been a thorn in the side of some liberal groups, especially gay rights groups, for years (he voted against same-sex marriage in 2009) but the seat will be a difficult one for a progressive Democrat to win.
Neither Fidler nor Oberman returned phone calls for comment. We will update this story as the day progresses.