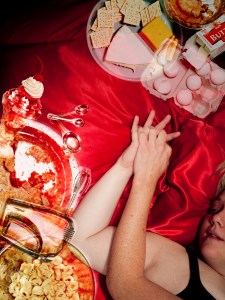 On a rainy day in March, four D.C.-area acquaintances from the online community FantasyFeeder.com–Kaptn03, ThatReesesGirl, Msprettypanties and Pokeythepenguin–piled into Pokey's Jeep and cruised up I-95 to New York.
The occasion was a performance of Feeder: A Love Story, an Off Off Broadway play at HERE in Soho about the sexual fetish known as feederism, which involves bingeing on fattening food, often with the help of a partner.
The play, by James Carter, tells the story of a "feedee" named Jesse, who is determined to tip the scales at 1,000 pounds, until she falls under the influence of a TV weight-loss guru.
Since Mr. Carter is not a feeder, the group worried he would sensationalize their lifestyle. But they came away pleasantly surprised, and told him so during a brief talk in the lobby after the performance.
They also made some suggestions, Msprettypanties told The Observer later via instant message. For one, the notion of putting on 25 pounds in a month seemed far-fetched. "I think 15 is totally doable," she said. Also, a can of Diet Pepsi on the set seemed out of place.
The playwright listened intently and promised to make revisions.
Msprettypanties, who is 26, weighs 500 pounds and would like to gain 100 more, as long as she can remain active. "I enjoy having a big belly," she said, explaining that her boyfriend is not a feeder, per se, but an FA, or "fat admirer," who will occasionally indulge her fetish when asked. "Being fed has always been part of my sexuality."
After the matinee, the group headed over to Famous Ben's Pizza on Spring Street for an early dinner with a couple of local forum members. Then they all took pictures together and laughed as Kaptn03's hat blew off in the rain. Eventually, they said their goodbyes, and the D.C. contingent got back into the Jeep for the drive home.
All in all, it was a great trip, Msprettypanties told us.
"I dance to the beat of my own drum," she wrote. "I hope it doesn't sound cocky, but I think I am special and wonderfully made."