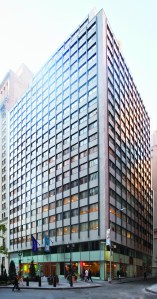 Five Hanover Square has two good reasons to be grateful for the tiny uptick in the finance industry.
First the former Swig swag, recently purchased by New York-based Savanna, secured a $47 million refinancing from Mesa West Capital; and now comes news that a financial software firm has signed a 10-year lease for 7,500 square feet on part of the 20th floor of the 25-story Financial District tower.
"We are pleased to welcome Odyssey Financial Technologies to their new space at 5 Hanover Square," said Christopher Schlank, of the new landlord. "This lease is an endorsement of our investment in the building and the revival of the downtown commercial office market. We are actively negotiating on a number of other spaces in the building and look forward to signing new tenants over the next few months."
Savanna purchased the $60 million mortage from Capital One Bank after Mr. Swig is thought to have defaulted on the property. The 1960s tower, with its jailhouse stripes, is also undergoing extensive improvements since Savanna secured a loan to renovate the property and pay the leasing tenant costs. It's undergone $24 million of renovations since 2003, including a new lobby.
The banking software firm still seems to have scored a bargain, with asking rents starting in the lo -$30s per square foot.
Shay Pope, Derek Myers and Jessica Staple of Newmark Knight Frank represented the tenant. Frank Cento of Cushman & Wakefield is in charge of leasing the property.