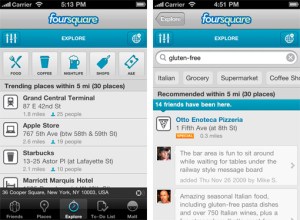 Foursquare has logged more than 500 million check-ins from more than seven million users, and that rich trove of data can now power recommendations in real-time. Today Foursquare announced version 3.0 with a new "Explorer" feature, which suggests nearby locations to users.
Foursquare employees have been dogfooding the much-rumored feature since last fall, trying to figure out the best way to organize and present it. "This has been the vision since the beginning," head of product Alex Rainert told The Observer. But there was housekeeping to take care of first–the company had to scale infrastructure to keep up with its rapid growth and chose to build relatively simple features like adding photos and comments to check-ins before making the jump from passively recording what people are doing, to telling them what they should do. "The entire Foursquare experience is moving to the next level, beyond the check-in or the game," Mr. Rainert told The Observer.
Another recent change–capping the number of "friends" who can always see a single user's check-ins–was unrelated to the move into recommendations, Mr. Rainert said, and was about keeping Foursquare a "curated social graph" with whom a user could be comfortable sharing his or her location.
The "Explore" tab lets users look at suggested venues nearby based on what they're looking for. Users can search in the categories "bars" or "coffee," or search with specific keywords.
The suggestions are based on a little bit of everything – the places you've been, the places your friends have visited, your loyalty to your favorite places, the categories and types of places you gravitate towards, what's popular with other users, the day of the week, places with great tips, the time of day, and so on. We'll even tell you why we think you should visit a certain place (e.g. popular with friends, similar to your favorite spots). organized into five categories.
Foursquare 3.0 will also show six new specials for merchants so that users can show up at the bar with 20 friends, for example, and get a swarm discount on the spot.
The other major change is to the leaderboard, which was one of the central features in the original Foursquare but has become less relevant as a few power users came to dominate. Now the leaderboard is restricted to the last seven days of you and your friends' activity. Foursquare hinted that its new leaderboard will include some unexpected incentives that it hopes will influence behavior the way the ostensibly meaningless title of "mayor" has people driving 15 minutes out of the way and inventing names for alleys.
You'll see that we've replaced our old leaderboard (and its simple points system and Sunday night reset) with a sliding 7-day barometer of you and your friends. Check-ins now trigger points for dozens of different types of actions – everything from discovering new places, trying new types of restaurants, visiting new cities, getting groups together, hanging out with old friends, and a few things you might not expect.
Foursquare is also hosting a real Foursquare game on a court at the Pepsi MAX lot on 3rd & San Jacinto, in another example of unexpected ways to play.
Speculative discussions about "what company will everyone be talking about at SXSW" often skip over Foursquare because the company seems like it's already made it; of course everyone at SXSW will be using Foursquare, just like they'll all be using Twitter. But Foursquare, almost at seven million users, is still tiny compared to Twitter–and it hasn't proved itself as essential as the microblogging service yet. But the changes in Foursquare 3.0 show the company is still energized and hungry. Anyone who has bets on which startup will break out at SXSW should remember that Foursquare still has lots of room to grow by winning new users and by persuading existing users to spend more time with it.
ajeffries [at] observer.com | @adrjeffries