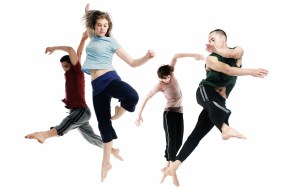 Okay, dance people, buckle up–March is going to be a bumpy month. It's a modern-dance invasion. (Paul Taylor's come and gone; everyone else is on his/her way.) Start figuring out your priorities now … next week will be too late.
To begin with: You're going to be spending a lot of time at the Joyce.
First up, Larry Keigwin, from the 8th through the 13th, with a full-evening work called Dark Habits. Keigwin is always smart, witty, New Yorky. Not everyone likes him as much as I do, but here's your chance to judge for yourself. (He's also a charming dancer.)
Next, from the 15th through the 20th: One of my favorite choreographers, Doug Varone, also with a full-evening work, Chapters From a Broken Novel. Six years ago, I wrote here that his new work, Castles, was the best new dance piece I'd seen in a long time, and nothing that's come along since has changed my mind. What's so special? His unusual gift for combining kinetic excitement with humanity and highly charged emotion. I guess you could call it expressive excitement.
And then, from the 22nd though the 27th, the return of the Merce Cunningham Company, deep into its Legacy Tour–everything's moving inexorably to its self-imposed dissolution at the end of the year. This is absolutely required seeing for admirers of the late, great Merce; soon his work will be solely in the hands (feet?) of other companies.
And let's not forget the Foundress: The Martha Graham company is going to be at the Rose from March 15 to March 20. The novelties will be a revival of the Robert Wilson Snow on the Mesa (1995) and a new piece by Bulareyaung Pagarlava, but the most emotional program for many of us will be the one on the 17th celebrating Martha's collaboration with Isamu Noguchi: Appalachian Spring, Cave of the Heart and Embattled Garden.
Mark Morris? Yes, March 17 to March 27, at the Morris Dance Center, his studio across from BAM, with its intimate theater that can only accommodate under 200 people. He's bringing us a world premiere–Festival Dance, to a Hummel trio–and two New York Premieres: The Muir, to a group of Beethoven's arrangements of Scottish and Irish songs, and Petrichor, to a Villa-Lobos string quartet. Small pieces in a small space, but with big expectations. This, of course, is a must.
Trisha Brown? At the Dance Theater Workshop, on and off from the 15th to the 26th.
Yvonne Rainer? At the Baryshnikov Arts Center from the 16th to the 19th.
After all this, I give you permission to relax for a little while, to gear up for the return of New York City Ballet (May 4) and ABT (May 16).
At NYCB, a new version of the Weill-Brecht The Seven Deadly Sins, choreographed by Lynne Taylor-Corbett and featuring Patti LuPone. (Not, alas, Allegra Kent and Lotte Lenya, who starred in Balanchine's 1958 version.) Also Vienna Waltzes, La Sonnambula and Jewels. To be avoided if possible: Peter Martins' Thou Swell and Susan Stroman's For the Love of Duke.
At ABT: Don't miss the company premiere of Ratmansky's brilliant and hilarious The Bright Stream (a triumph when the Bolshoi brought it here several years ago). Also new works by Ratmansky and Wheeldon (oh yes, and by Benjamin Millepied). Plus an important revival: Tudor's Shadowplay.
As for the full-evening spectacles, it would be hard to say which is the bigger yawn, James Kudelka's Cinderella or John Neumeier's The Lady of the Camelias. Avoid both. But the old standbys will be up and running: Giselle, Swan Lake, Don Quixote, Coppélia, The Sleeping Beauty. Try to see Cojocaru in Don Q, Giselle or Beauty, Osipova in Coppélia or Beauty. And Murphy and/or Hallberg in just about anything–except Cinderella. Don't say I didn't warn you!
                        rgottlieb@observer.com