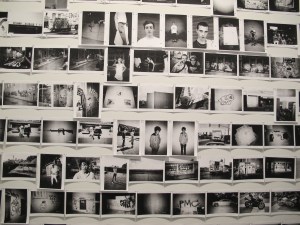 "An image-maker," writes the photographer Ari Marcopoulos, "is asked to make distinctions and decisions on what to extract. Having been involved in this practice for over 30 years, I started to try and free myself from even my own expectations."
He did so by shooting whatever he saw and storing the images as piles of black-and-white photocopies. Twelve hundred of these will be published next month as a phone-book-like tome called Directory, and about half as many are filling one room at White Columns, tacked up in 10 rows that circle the walls.
What a photographer sees, of course, is what he's interested in, and what interests Mr. Marcopoulos is graffiti, as well as men and boys posing, pretty girls, assault rifles, old cars, train tracks, surfboards, skinny jeans, motorcycles, The New York Times, Steven Spielberg, airplanes, an American flag, Tommy Lee Jones blinking and an Italian translation of Transgressions by Anthony Julius. He also noticed, in the course of this project, a counterclockwise swastika and the phrases "SKINHEADS OI," "THANK YOU JESUS" and "DUMBO SEI UN BABBO."
The impression of a room papered with copies is taken in quickly, but then the artist's refusal to select an image becomes the viewer's inability to do so. You'd like to choose something to look at, but you can't, because wherever you look, potentially more intriguing pictures fill your peripheral vision and pull you away. It's impossible to keep still.
It is possible to observe, however, that there is no such thing as an unselective eye. The composition, the light and the subject matter–not to mention the paper and the pushpins–are consistent, and together they create a coherent effect. If we took Mr. Marcopoulos at his word about his attempt to disencumber himself of single, distinct views, we would see nothing here but the brittle hubris of an art so many steps removed from the world that it has forgotten the world exists. But if, instead, we refer to Ecclesiastes, we'll see that he has made a single view in the best and only way possible: It's a view of the view through a digital camera.
The Nigerian artist Marcia Kure began collecting costume images from the Victorian period while she was an artist-fellow at the Smithsonian Archives in 2008. She copied and cut them out–carefully but with a few extra corners and overlaps carefully left visible–and combined them with mostly unidentified faces drawn from the hip-hop period. The original collages are notebook-size, but the six framed, perfectly printed blow-ups on display at Susan Inglett Gallery, are gigantic.
Superimposed on one long red skirt decorated with yellow spirals and blue shields is an unrelated cloth bundle. Beneath an enormous pair of breasts in a pale, patterned sweater descend a light-skinned arm holding a little purse, a dark-skinned arm hanging free and another dark-skinned hand holding out a dollar bill. The figure's head is a black man's. He has a mustache and big sunglasses and wears a giant soft fur hat. The proportions are all wrong if you look at the details, but the silhouette scans perfectly. The head is much too small for the body, but the hat makes it up; the breasts are cartoonish and the legs far too long. But as a shape, it coheres so well–both compositionally and, in an abstracted way, in terms of figure–that it's difficult to read as a mash-up. The whole is indifferent to the sum of its parts.
Another black man's head is attached to a well-turned-out Victorian lady's body with tightly fitting jacket, kid gloves, white bustle and broad, beribboned hat. But again, the face is perfectly placed, and it expresses just the right haughty self-possession. A chiseled woman wearing earrings, lipstick and bleached hair in an up-do, with eyes narrowed and lips slightly parted, looks imperiously out from the profiled upper body of a foppishly jacketed man, with two pieces of red-and-blue cloth attached beneath to make a shape that suggests both a knight mounted on a playing card and a heraldic rooster.
None of these contrasts clash the way you'd expect, but that's what gives the work its historical resonance. Colonial structures are broken and reformed, but substantial pieces remain intact and the overall shape, to a quick glance, can look the same. The world's preeminent power remains an English-speaking one whose military dominance depends less on a standing army than on the threat of highly mobile destruction. The rich stay rich, but fashion is constantly changing. It may be that the transition from sea to air power is, like the turn of a paparazzi camera from aristocrats to singers, less of a change than it seems.
editorial@observer.com