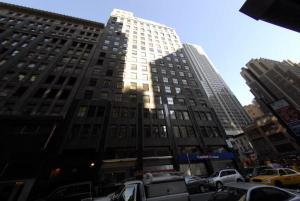 A Garment District building that was looking a little tattered around the edges has pulled itself together of late.
"There was not much in the way of capital improvement or concessions and build-out for new space," Doug Regal of ABS Partners told The Observer. The ownership of the 240,000-square-foot building at 1001 Sixth Avenue, near West 38th Street, has remained the same, but the former fashion tenant hub is undergoing a major capital improvement plan, including replacing all of the windows.
Three companies have signed leases recently. Accounting firm Schulman Wolfson & Abruzzo took 6,180 square feet on the 10th floor. Advertising and marketing firm SJI Associates inked a 10-year renewal for 7,364 square feet on the 23rd floor. Venio, a lost shareholder services provider (according to our research, the only such mysteriously named company in the world), has relocated from Fifth Avenue in midtown, taking 11,000 square feet.
"It's attracted a much higher quality of tenant," Mr. Regal said. While formerly they were making deals below $25 a square foot, the asking rent has risen to $42 a foot and they're making deals not far off that.
"We've been pretty aggressively marketing it to brokers," he said. "It's not the same old building." To wit, activity has been brisk: "We signed deal for a 3,500-foot, pre-built unit before we even started construction," he said. Currently 50,000 square feet is still available, including four contiguous high floors.
lkusisto@observer.com