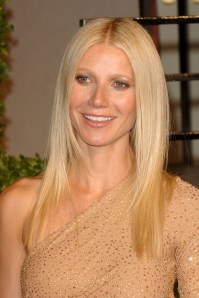 Gwyneth Paltrow–who, between Country Strong promotional appearances, Glee guest spots, and an unlikely Cee-Lo partnership, has come to seem more like a Lite-FM singer than an actress–is continuing her metamorphosis. She's signed a $900,000 deal with Atlantic Records to produce an album of so-called "country pop," of the sort she performed in her recent film, and on the Oscars and CMA Awards. Ms. Paltrow's become a more able live performer with each recent appearance, though her record deal still seems a bit random, especially given the level of vitriol that exists towards Ms. Paltrow–perhaps she'll curtail her online-lifestyle-magazine efforts to win over a jaded public?
The deal comes, too, at a point during which her acting career, if not exactly on fire, has more going on than it has in years. The Iron Man franchise and a new Steven Soderbergh film are nice gigs, and a guest arc on Glee is a nice opportunity to make some cash, remind younger viewers she exists, and brush off her vocal chords after a years-ago stint as a backup singer for Sheryl Crow. If not a natural performer, she can sing well enough–and as a means of expending her stay in the limelight, it's more appealing than GOOP. But how hard must an actress work at non-acting pursuits to get attention? While we'll grant that this is more innovative than selling photos of oneself to the paparazzi, if only for the possibility that a million yet-unplumbed angles on the "macrobiotic diet" joke are being plumbed as we speak, perhaps Ms. Paltrow would have been better advised to stick to playing characters–other than herself in a bizarre, unsuitable context.
Below, the thing that started it all–Ms. Paltrow's performance at the Country Music Awards.
http://www.youtube.com/watch?v=jtnnOoxw9yo
ddaddario@observer.com :: @DPD_