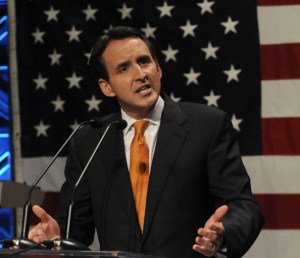 The first scheduled debate of the Republican primary season has been postponed.
The Ronald Reagan Presidential Foundation had scheduled the debate for May, but with exactly zero candidates officially declared, the foundation–along with its partners NBC and Politico–announced this morning that it would re-schedule for September 14.
Last month, I wrote about the concern among some local donors that the primary field had yet to develop, putting this cycle well behind the pace of four years ago, when the field narrowed rather quickly and campaigns were already recruiting donors and staffing up by this point.
Since then, only former Minnesota Governor Tim Pawlenty has so much as announced an exploratory committee, though former Massachusetts Governor Mitt Romney has done everything but officially declare.
The rest of the field seems content to play a game of wait-and-see. Sarah Palin could have an outsize effect on the field, but most pundits believe, even if she runs, she'll preserve her lucrative Fox contract as long as she can. Ditto for Mike Huckabee. Newt Gingrich has already been suspended from his Fox deal, and says he'll announce in the next month or so.
And Rudy Giuliani, fresh off kicking the tires in New Hampshire, said he's waiting to see whether there's someone capable of winning a general election before he decides to run.
When that will happen is still anyone's guess.
UPDATE: Several readers note that Herman Cain has also formed a presidential exploratory committee. The former C.E.O. of Godfather's Pizza is generally considered something of a long-shot, but Jon Ward cautions the other candidates that Cain could sneak up on them and capture a significant portion of the Tea Party set.