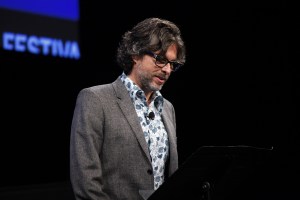 HBO's added another series to a very crowded and diverse development slate–married couple Michael Chabon and Ayelet Waldman's Hobgoblin, a drama about magicians battling Hitler. The network's garnered a great deal of press lately for big-name projects under development, which often rhyme with past successes: In the Sex and the City vein, Lena Dunham's Girls (produced by Judd Apatow) has been sent to series, while Julie Klausner's I Don't Care About Your Band project is under development with Will Ferrell and Adam McKay producing. Upcoming series Luck has the imprimatur of David Milch (creator of past, cult HBO dramas Deadwood and John from Cincinnati, both ignominiously canceled) and promises the criminal themes and broad scope of The Sopranos or Boardwalk Empire.
But not every project is picked up: HBO passed on purported Nikki Finke drama Tilda (which makes us slightly fearful, despite creative difficulties on the Tilda set, for Aaron Sorkin's inside-media Olbermann pilot), and New York family drama The Miraculous Year. They also passed on a pilot by Alan Ball, the man behind one of the network's only current hits, True Blood. This would seem to make greenlighting of Mr. Milch's series proof that Luck must fill the need for splashy spectacle on the network, or that Michael Mann's involvement as director must be notable in a Scorsese-at-Boardwalk Empire sense.
Martin Scorsese's involvement with the Atlantic City drama (created by Terence Winter) is a good case study: The network's current model seems to be matching high-concept idea with boldface name: Mr. Chabon, Ms. Dunham and Mr. Apatow, Mr. Ferrell and Mr. McKay, Mr. Sorkin, Frank Rich (producer of Julia Louis-Dreyfus project Veep). Their voices are all markedly different from one another's–and from past HBO creators'. The Sopranos came from a TV lifer, David Chase, who'd written for television, without great personal fame, for years before creating his series. It's unlikely that a name like his–at least without a major director along for the ride–could greenlight a series at the network today.
ddaddario@observer.com :: @DPD_