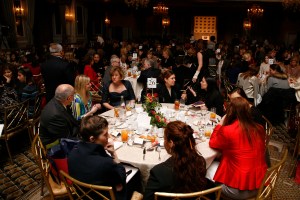 On opening the invitation to the American Cancer Society's Mothers of the Year luncheon, an interesting detail caught our eye: "Cocktails: 11:45 am."
As anyone who's ever raised children knows, a little tipple at the Plaza had been earned many times over by these ladies.
How did they do it? we wanted to know.
"I think if you love your kids," said Cathy Munch. She gulped a bit of wine.
"Well, there are other things. But if you love them, and they know it, and you're there for them all the time…"
We understood.
"I'm a great mother!" Karen Diamond told The Observer, clutching a glass."You have to be there. You have to be present."
One of the honorees was Muffie Aston Potter, the ball-hopping wife of Upper East Side nip/tuck kingpin Sherrell Aston.
"Muffie Potter has so many great qualities as a good mother," said AnneYoakam. "Our daughters went to the same preschool. She was one the parents who was always on the playground. She plans beautiful birthday parties. They were still big and festive but not too, um, over, over"
Over-ostentatious?
"Yeah, ostentatious," Ms. Yoakam continued. "To have two is a handful, but she handles it so beautifully."
She was referring to Ms. Aston's twin daughters, Ashleigh and Bracie. They were both on hand, wearing pink jumpers.
A bell alerted the attendees that it was time to proceed to the ballroom, where the program was to begin. David Patrick Columbia, proprietor of New
York Social Diary, served as emcee, introducing Ms. Aston and her fellow award recipient, breast cancer surgeon Dr. Freya Schnabel.
After the lunch, The Observer spotted Patti Hansen, the model, who'd experienced some parenting challenges a few days before. Daughter Theodora
Richards was nabbed tagging a Soho church with graffiti, and was arrested after police found marijuana and Vicodin on her person.
We asked Ms. Hansen: What makes a great mother?
"Patience," she told The Observer. "That's the key word."
How had she been dealing with Theodora's arrest?
"I don't have any comment about that."
But, um, patience, right?
She gave a resigned nod. "Yes," said the wife of Keith Richards. "Patience."