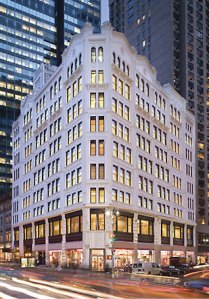 Last month, the Argonaut, the landmarked turn-of-the-century building at 225 West 57th Street, achieved something very few 100-year-old buildings have been able to achieve: LEED Gold certification by the U.S. Green Building Council. James Dempsey, a managing director at Colliers International, spoke to The Commercial Observer about the many complexities of bringing the building into the 21st century.
The Commercial Observer: There are only a handful of buildings as old as the Argonaut to obtain LEED Gold certification. Can you take me through the process?
Mr. Dempsey: I guess early on, probably the biggest challenge was taking a 100-year-old structure that had been around for quite a long time, and bringing it up to the 21st century as far as infrastructure is concerned—and at the same time, bringing it up to LEED certification.
We knew we couldn't obtain Platinum, but we knew we could try to obtain Gold, and so that's what we did. We shot for that by working with our architects and our engineers and ourselves as well.
With the process being as expensive and challenging as it is, why even bother?
We thought it was the right thing to do. Since we were going about rebuilding the infrastructure and the internal guts of the building, we might as well do it the right way and satisfy a number of issues, whether it be being green or just because it's a good way of selling the building.
Plus, it's a good thing for the City of New York.
Can you give me a specific example of the complexities you faced?
The most important thing was taking the 175,000-square-foot footprint, finding out where the issues were as far as the design and construction and trying to figure out a way to bring in 21st-century technology to a building that was built in the 20th century.
We ran into a number of obstacles, some of them being structural issues and the way the ductwork and piping went through the building. But the biggest challenge was that the building was landmarked so there are lots of issues you need to have approved not only by the City of New York and the Department of Buildings, but also the Landmark Commission.
So that was an arduous task because certain things we just couldn't do. The placement of equipment and where it was located-it couldn't be visible from the street. So we had to go over that hurdle right away.