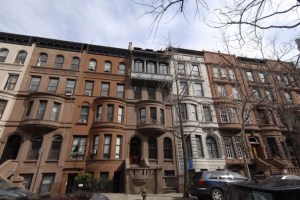 Microcosm alert.
During the heady days of the real estate bubble, James Cummings came to town having had a successful career developing properties in Greenwich, Conn. Mr. Cummings and his Aberdeen Properties had a clever idea and set about buying up rundown townhouses and converting them into luxurious mini-condos. There would be automated doormen, remote concierge and refrigeration chambers for picking up Fresh Direct deliveries, all monitored from Aberdeen headquarters in Connecticut. The idea was to combine

townhouse intimacy with big-building amenities.
But even with these features, the properties, first planned in early 2006, faced a challenge, as The New York Sun explained: "Because the homes are coming on line during one of the worst nationwide housing slumps since the Great Depression–the first to be completed, at 24 W. 11th St., will hit the market at $17.5 million next week–the sales will be closely watched by real estate professionals."
The article was published four days before Lehman Brothers collapsed, and it turned out to be rather prophetic. Not only did Aberdeen's properties flounder but indeed one of the city's foremost real estate professionals was watching them closely.
In October of 2008, Mr. Cummings sold the mortgages on his properties back to his bank, Wachovia. This was less than a month after that bank was itself sold to Wells Fargo. Then, last Agusut, Wells Fargo handed the mortgages on two of the projects, 41 West 74th Street and 33 Charlton Street, to the Vector Group, Howard Lorber's Miami-based holding company. He runs Nathan's Famous Hot Dogs, Western Union and, yes, Prudential Douglas Elliman, the city's largest residential real estate brokerage.
That helps explain why a powerhouse stable of Mr. Lorber's brokers–Leonard Steinberg, Herve Senequier, Dolly Lenz and Raphael De Niro–had the listing for 41 West 74th Street, which just sold for $12.5 million, according to city records.
Mr. Lorber's office did not return requests for comment while Mr. Cummings declined to say much. "I sold my interest two years ago and I have nothing to contribute so I'm going to sign off if you don't mind," he said by phone from Greenwich. The Observer did mind, but what can you do about it?
The six-story Neoclassical wonder, which dates from 1902, initially came on the market in January 2009 as two triplexes. Both are just about 3,800 square feet, with the top one being slightly smaller but asking slightly more, $7.65 million as opposed to $7.5 million. Both prices were cut 5 percent five months later, where they sat until being sold on March 2 to Three Joses LLC, a foreign buyer who paid all cash according to a person familiar with the deal.
The combined home has seven bedrooms and seven bathrooms spread across 8,175-square-feet. Aberdeen did a very good job, as the listing makes clear: "This superbly renovated 2 family house on one of the Upper West Side's most coveted blocks steps off Central Park, features two immaculately finished apartments, each with grand entertaining space including a library and gorgeous custom kitchen, a grand Master Suite, 2 additional bedrooms, hardwood floors throughout, Central air conditioning, Crestron systems and so much more." Like those automated doormen, an elevator and skylights and terraces galore.
A Corcoran listing from when the house was last sold in July 2006 for $5.75 million to Mr. Cummings–a smidge over the ask–notes that "a row of historic 25′ mansions" are across the street, one of which The Times wrote about in a round-about way in a Streetscapes column. According to Streeteasy, Ronald Baylock sold the home to Mr. Cummings, having bought it in October 2003 for $3.4 million. Before that, it traded hands for $900,000 in 1997.
That kind of appreciation is almost as impressive as what Mr. Lorber pulled off. City records show that Mr. Lorber took on a mortgage of $6,162,380 for the property, well below the $11,111,319 Mr. Cummings had freighted the property with. Back of the envelope suggests he walked away with at least a few million on the deal, even after paying the commissions of all those brokers.
For those looking to give Mr. Lorber a little more money, 33 Charlton–"A TOWNHOUSE OF UNPRECEDENTED PERFECTION"–is still on the market for $9.95 million with Messrs. Steinberg, De Niro and Michael Lorber, Howard's son.
And so this is how you unwind a real estate bubble, one brownstone at a time.
Read past Manhattan Transfers here. >>