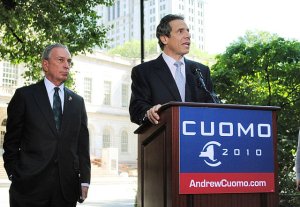 Mayor Mike Bloomberg's budget director, Mark Page, has sent a memo to all city agencies ordering them to come up with $600 million worth of cuts in the next few weeks.
"I am asking City agencies to focus on their operations in Fiscal Year 2012 to determine how best, to the extent necessary, we can maintain balanced City operations," Page writes. "The total target is $600 million for FY2012. I am asking that each agency address the full target, but also to be clear as possible in their priorities."
The Department of Education and the uniformed agencies like police and firefighters are asked to find 2% to cut; all other agencies are asked to find 4%.
The memo includes something of a backhanded swipe at Gov. Andrew Cuomo. Cuomo and Bloomberg, you may recall, have sparred over the state's cuts to the city.
"A key component of our plan for balance in FY2012 is $600 million in measures to be taken by the State, $400 million of which would cost the State nothing. If the State does not deliver, we must still maintain budget balance," Page writes.
Full memo below: