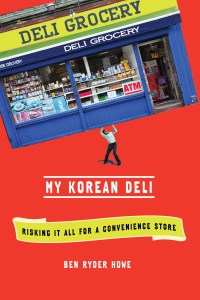 The deli is a good place to stage New York stories. There are lots of things to do there, from grocery shopping to armed robbery, and the setting makes them feel both particular and universal. Once, in our early months in the city, my roommate received a pack of Camels on credit at our corner store. This meant that dreams could come true. Once, alone and drunk late at night, I abandoned a copy of The House of Mirth on the counter while purchasing ice cream. This meant that I was a fool–but, because I recovered it the next day, not a total fool.
We do many activities at our delis, but buying the deli is a basically inconceivable way to interact with it. This is what former Paris Review editor Ben Ryder Howe did a few years back, and now he has written a book about the experience, My Korean Deli (Holt, 320 pages, $25). In the author's note, Mr. Howe recounts a predictable accusation he's faced: "You bought the deli so you could write the book, didn't you? Admit it." He thinks not, but he isn't sure. "I had to ask myself, Was he right?" Mr. Howe writes. "Could that have been one of my motives, secret even to myself?"
Ostensibly, the plan was to buy a business for his in-laws. He and his wife had saved a nest egg by living in her parents' Staten Island basement, and intended to put it toward the purchase of their own home. Then a fit of filial guilt seizes his wife: She wants to repay her Korean mother's sacrifices. Because her mom loves work ("I do anything not to be the lazy person," says the mom. "If I'm not doing something all the time, whole body hurt, feel like sick or something. Want to die") and has convenience-store clerking experience, this gift will be a deli on Hoyt Street in Brooklyn.
On the personal-growth front, Mr. Howe says that he also hopes to experience risk: "Not simulated risk, not managed risk, not the sort of risk you get whizzing down a zip line in Outward Bound." Rather, he wants "the real world, dog-eat-dog, kill or be killed." Literary publishing does not count.
Along the way to the real world, Mr. Howe and the reader learn some neat facts about delis. Green awnings indicate Korean establishments, generally with fresh produce; red and yellow are Dominican, and stock mostly canned goods. Deli coffee comes from a company called USA Coffee, which offers products called "Donut Blend" and "Brown Gold" to "large offices and other institutional settings." These are the sorts of secrets that lurk in any job not one's own, and they give the memoir its satisfying crunch.
Then there's Mr. Howe's other workplace, The Paris Review. In a hook that may draw more readers than deli trivia will, My Korean Deli offers a peek at the last days of George Plimpton. Mr. Howe was a senior editor back when the magazine still operated out of the basement of Plimpton's townhouse, and he was around for the venerable founder's dotage and death. By Mr. Howe's account, it wasn't clear how The Review would survive post-Plimpton, or even that it would live on at all. Maybe that doesn't count as the risk Mr. Howe was after, but for the country's premier literary journal, it's not nothing.
At one point, inevitably, Mr. Howe compares his two workplaces. "In a funny way, The Paris Review is like a deli," he writes. "It's a throwback, an institution that doesn't quite fit in the modern world. It's not big or corporate. It doesn't have a lot of swagger or muscle."