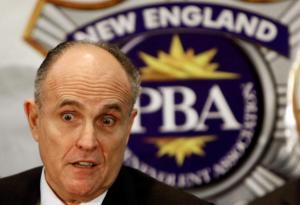 In an op-ed in the New Hampshire Union Leader this morning, former state Republican chairman Fergus Cullen threw a lot of cold water on the possibility of a Rudy Giuliani resurrection in the nation's first primary state.
"Sometimes a candidate doesn't deserve a second chance," he wrote.
Cullen expressed many of the same complaints that others mentioned in my story last week–that Giuliani ran an above-the-fray campaign in a state that expects a lot of personal attention. As Cullen put it:
Giuliani's was the Potemkin Village of presidential campaigns: What looked like a campaign was just a facade for the cameras and national media. It was artifice, disrespectful of the process and the voters. Perhaps this is what campaigns in New York City are, where everything plays out on TV and in the tabloids, where no grassroots grow in the concrete jungle.
Most of the voters and political experts who I spoke with seemed to think the electorate could give Giuliani another chance, provided he was willing to put in the gripping-and-grinning required of New Hampshire candidates. At the Manchester G.O.P.'s Lincoln Reagan dinner last week, the former mayor did just that, working the room back and forth, to make sure everyone got a handshake and a photo.
But Cullen is not so forgiving. He mentions meeting Giuliani a half-dozen times and the mayor never appearing to have remembered him. Cullen seems to have taken it personally, and says he's written off the former mayor as a viable candidate.
Most of us know the experience of having had a bad first date. Usually both participants recognize it didn't work out, but sometimes the guy doesn't get the message, calls again, and needs to be told bluntly: Sorry, Rudy. You had your chance, and much as we respect your resume, we're just not interested in going out again.