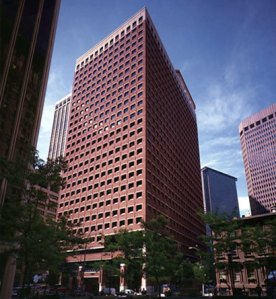 Tina Brown's promised Newsweek turnaround has yet to materialize, but its dingy FiDi headquarters is already staging a comeback.
In recent weeks, 7 Hanover Square has scored one of the largest financings so far this year, along with a major sublease by non-profit law firm the New York Legal Assistance Fund. The tenant has taken 36,250 square feet of Guardian Life Insurance's space on the 18th floor of the building for its headquarters, according to a release. Gere Ricker of MB Real Estate represented the tenant. Joseph Harkins and Barry Lewin of Grubb & Ellis represented the sublandlord.
Meanwhile, Milstein Properties has secured a $147 million refinancing from UBS Real Estate Securities, according to city records and PropertyShark.com. The 850,000-square-foot building, waaay down on the island, was developed by Swig, Weiler & Arnow in the early '80s and purchased by Milstein Properties in 2001 for an unknown amount.
This also looks like more good news for downtown, which has been experiencing a flurry of leasing activity since the beginning of this year, given that the law firm is relocating from midtown south's 450 West 33rd Street. Newsweek is currently also subleasing Guardian's space on the fifth and sixth floors, but the rumors of a flight to the I.A.C. building on the far West Side persist.
The tenant is paying $32 a square foot in rent, according to CoStar, and the new subtenant will be renovating the space. With the new influx of cash, could it be Newsweek's space is in for a reno as well?
lkusisto@observer.com