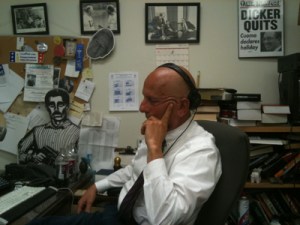 Some daylight is emerging between Governor Andrew Cuomo and New York Post State Editor Fred Dicker – undoubtedly one of the most important voices in Albany.
The critique arose in response to how Cuomo reacted to news that two Democratic lawmakers were swept up in a corruption and bribery probe from the US Attorney and FBI.
Upon news of State Senator Carl Kruger and Assemblyman William Boyland's arrest, Cuomo's office released a statement saying what the governor has said before: pass the ethics legislation or face the wrath of a Moreland Commission.
Dicker called the move Cuomo's "first major blunder since taking office" and suggests a more aggressive approach.
"I write that he should act more rapidly, more immediately, and maybe even on Monday call a public leaders' meeting with Speaker Silver and Senator Skelos and, out in the open, discuss why they're not moving right now to pass the toughest ethics law ever in New York," Dicker said on his radio show this morning.
Later, in the hour-long show, Dicker said Cuomo "appears to be desirous now of waiting until after the budget is done, and maybe a couple of other things are done before finally joining the issue of ethics reform."
Cuomo's office did not have a comment on Dicker's story.
Overall, the comments from Dicker are incredibly mild, especially when compared to the kinds of things he's said about other governors. But undoubtedly, they are being obsessed over by many.