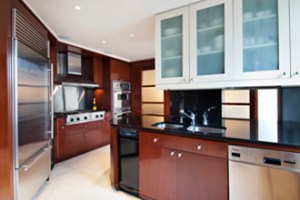 The listing for this $4.2 million three-bedroom, three-bathroom condo in the West Village gushes that the formal dining room-giant kitchen combo will "bring out your inner Martha Stewart."
Not that the kitchen is the only impressive part of the property. The rest of the 2,232 square feet contains plenty of open space in this spade-shaped home, with huge windows offering views uptown and downtown. The park is just across the street, but who needs that when you have a roof deck?
Just keep your inner Martha Stewart in check. You don't want to go to jail for insider trading.
SLIDESHOW: A homemaker's dream in the West Village. >>