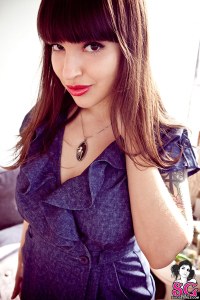 It turns out launching a blog without publicly acknowledging its existence may not be the best way to attract an audience, after all.
On Wednesday, Village Voice Media gave its sex blogger Jamie Peck notice that the racy sex-news site she'd edited for eight months, Naked City New York—the curiously unheraled existence of which was exposed in by The Observer in December—would sort of roll over and go to sleep without ever reaching the mind-blowing climax of a public launch.
News of the sites' demise came, as all news does, in the form of a tweet—this, on Ms. Peck's feed:
Wow, just found out NakedCity is dead. If anyone's been thinking of trying to hire me to write/edit for them, now would be a good time.
Her Los Angeles counterpart, AV Flox, proprietress of Naked City Los Angeles, didn't respond to a request for comment, but her site hasn't been updated since Tuesday and may have suffered the same fate.
In a web chat, Ms. Peck, who posted 519 posts during the New York blog's lengthy test run, told us VVM's director of new media Bill Jensen broke the news to her via email. (Men.) "He said the budget had been cut again and Naked City hadn't made it," she wrote.
According to Quantcast, monthly traffic for the sites has been growing, topping out at around 7,000 page views, sparse but respectable for a pair of websites that were still slinking around on the DL.
Though disappointed, Ms. Peck said the experience had been a good one. "I'd never been the sole editor of a blog before (barring branding stuff I've done for Converse), editing other people, making an editorial schedule, etc., so that was definitely a good experience." She refused to disclose her salary—"that would be tacky"—but did mention one perk.
"It was fun to watch the review copies of pornos I got in the mail with my boyfriend," she wrote. "We both have a pretty gross sense of humor."
VVM Director of New Media Bill Jensen hasn't responded to an email seeking comment, but we will update when we hear back.