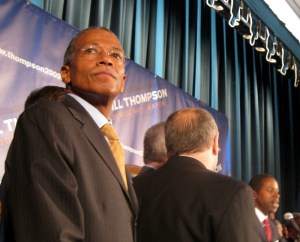 City Councilman Robert Jackson called me a moment ago to discuss his dispute with City Councilman Ydanis Rodriguez and State Senator Adriano Espaillat that flared into the open during a zoning subcommittee hearing earlier today.
"When people go around saying I am anti-Dominican, I have a fucking problem with that," the Harlem pol said. "You've got a problem, come say it to my face. Don't try to make me look racist against Dominicans. I have done more for Dominicans in Upper Manhattan than any of them combined."
Jackson, who is African-American but represents a district with a sizeable Dominican population, noted that in 2003 he walked 150 miles to Albany to protest the state's failure to comply with the Campaign for Fiscal Equity ruling that said city schools were vastly underfunded. Jackson said that he did it on behalf of students in Upper Manhattan, many of whom were Dominican.
The Harlem council member also said that he has undertaken several humanitarian missions to help provide food and medical relief to the people of the Dominican Republic.
"I have never seen any of those elected officials in August in the Dominican Republic unloading traffic trailers when it's 120 degrees," he said. "So when someone says I am anti-Dominican, I have had enough of their shit."
According to Jackson, both pols resent him for backing Mark Levine, the founder of the Barack Obama Democratic Club, in his race last year against State Senator Adriano Espaillat.
"Adriano took that to heart and he had done everything he can do to injure me and to bad mouth me to everyone he knows," Jackson said. "They are trying to do everything they can to bring me down."
Jackson called Rodriguez a perennial City Council candidate, noting that he ran four times and that Jackson never supported him in any of his races.
"I felt like he wasn't ever the best qualified candidate," he said. "He ran four times and he only won by default."
Rodriguez won his seat in 2009 when the incumbent councilman, Miguel Martinez, went to jail after admitting that he stole thousands in taxpayer dollars. Rodriguez got into some trouble last year when he was accused of inappropriately touching a female staffer during a budget dispute. Jackson served on the Standards and Ethics Committee that investigated the incident.
"He took my involvement in that personally."