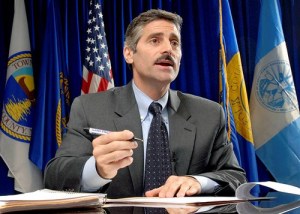 Suffolk County Executive Steve Levy announced today that he will not seek a third term this November, and turned over the entirety of his $4 million campaign account to the district attorney's office. This appears to be Levy's answer to a 16-month investigation conducted by the Government Corruption Bureau into the county executive's fundraising.
"There is no question that while the investigation revealed serious issues with regard to fundraising and the manner in which it was conducted, including the use of public resources, I am confident that Mr. Levy did not personally profit," said Suffolk County D.A. Thomas Spota. "The forfeiture of his 4 million dollar campaign fund demonstrates his acceptance of responsibility for these failings."
It's a staggering fall for the county executive, who was cross-endorsed in 2007 and won with 96 percent of the vote. After an abrupt switch to the Republican Party last year, he very nearly won a Wilson Paluka vote at the nominating convention, which would have allowed him to run in the G.O.P. primary for governor.
"I said to friends that if I didn't run [for governor] I would regret it for the rest of my life," Levy said. "While I didn't move on to a higher office it's time to decide whether I'll seek a third term as County Executive. After much discussion with my family and due to my desire to tackle other challenges I am announcing that I will not be seeking another term."
Spota has decided to allow Levy to finish out his term, which some lawmakers feel is necessary in order for the Suffolk County government to remain stable.
"In the district attorney's statement, he made it clear that he thought that the reason for allowing the investigation to be concluded this way was for more stability in Suffolk County government, which I concur," William Lindsey, Presiding Officer of the Suffolk County Legislature, told the Observer. "If he was to have stepped down at this point in his term, it would have triggered probably two elections in a 6-month period which I think is problematic for the operation of the county."
He added, "The one thing that is clear is that we're going to have a new county executive next January."