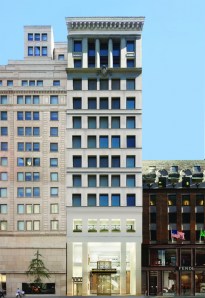 A boutique office building at Fifth Avenue and 53rd Street, the Corinthian original home of the Metropolitan Museum, has secured $150 million in financing.
The influx of capital at 681 Fifth Avenue, a prime retail spot whose tenants include Tommy Hilfiger, will be used to pay off any outstanding debt and to fund additional pre-built floors in the 17-story mixed-use tower, owned by Metropole Realty Advisors. The 19th-century building has been experiencing a comeback of late, since the completion of a $20 million renovation in 2010, including a bright-white new facade. Vision Capital Americas and Global Thematic Partners both signed full-floor leases.
The loan was provided by Ladder Capital Finance. Peter Smith, of Ladder Capital, worked with Robert Siegel and KT Bren of Metropole Realty. Malkin Strategic Capital provided a $25 million mezzanine loan.
lkusisto@observer.com