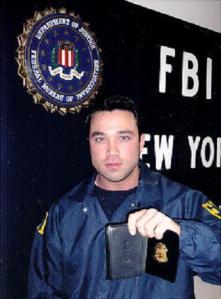 Earlier today we reported about how Congressional Democrats from New York City disapproved of Peter King's hearings on Muslim radicalization. Since King is a Republican, and the White House is similarly concerned about the hearings, it was not too much of a surprise that local Dems wouldn't back their longtime colleague.
But now it appears that even local G.O.Pers have concerns.
Staten Island and Brooklyn Rep. Michael Grimm's office just sent over the following statement saying that King is in essence only focusing on one side of the story, that if the American Muslim community need to do a better job of reaching out to law enforcement, then so does law enforcement need to do a better job of reaching out to American Muslims. He also seems to allude to the concern others have expressed, that holding the hearing may in fact alienate the Muslim community.
Grimm is a former F.B.I agent. His district contains a sizeable Muslim population.
Full statement below:
Although I support Chairman King in his efforts to combat terrorism and protect Americans from another attack, I believe that the Muslim community must play a leading role in fighting radicalism. With the threat of homegrown terrorism on the rise, the Muslim community can be an important asset to law enforcement in combating radical Islam. I know many members of the Muslim-American community who share concerns that radicalism jeopardizes their ability to live peacefully in America.

As a former FBI agent, I worked closely with these communities, which is why I know the importance of building a close relationship with them. New York is the biggest terror target in this nation. All communities need to work with law enforcement to open communication channels and report threats. To be effective, we must work together to keep our cities safe from radical acts of violence and future terrorist attacks. That is why I am looking forward to working closely with Chairman King to help ensure that his concerns are met with fruitful cooperation and joint efforts in mutual respect between law enforcement and the Muslim-American community. "