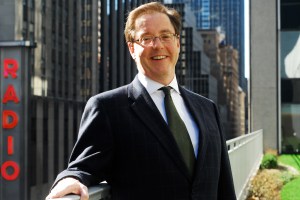 It was at the depths of the economic downturn that mega-developer Larry Silverstein first sought to raise capital for the construction of three towers at the World Trade Center site by securing $1.3 billion in bonds from the Port Authority of New York and New Jersey, the site's landlord.
To navigate such a complicated and tangled financial maze, Port Authority chiefs called on Michael Rotchford, an accomplished executive vice president with Cushman & Wakefield who, as its head of investment banking, had long ago established ties with the agency.
The question was whether investing such a large sum was a sober idea at a time when tenant demand was so low. The conundrum sent the former Merrill Lynch investment banker on visits to, among other venues, the offices of Governor Paterson and Mayor Bloomberg.
As a result of his 15-man team's work, authority officials agreed last year to kick in up to $1 billion, with an additional promise of up to $200 million each in funds from the state, city and the Port Authority if the developer successfully raises $300 million of his own money and leases 400,000 square feet at the first of the three trade center office towers.
"To me, I'm really proud of that work because they're a public-sector client, and we're working with them to make sure the best interests of the site—but also the best interests of the public at large—are being served," said Mr. Rotchford, 52, during an interview last week. He has also advised the authority on its push to redevelop an office tower atop its bus terminal and the acquisition of a building in Jersey. "So there's more than just a monetary aspect to this particular transaction."
While drama over the quest to raise capital at the World Trade Center has been well documented over the years, few real estate observers realize quite how significant a role Mr. Rotchford has played. To be sure, not only did he help draft a financial blueprint for the project, but so, too, did he advise the authority in its hunt for an equity partner at 1 World Trade-a search that culminated late last year with the selection of the Durst Organization.
For Mr. Rotchford, a numbers pro who has structured national deals for corporate clients like Reader's Digest, Verizon, Pfizer and others, his actions on behalf of the Port Authority were but a few in a long line of noteworthy assignments. And, besides, for an executive whose tool chest includes a notable variety of financing instruments-derivatives, commercial paper transactions and securities-real estate isn't always the first line of defense for his clients.
"We're looking for all those different arbitrage opportunities, but we're not just using the real estate and all those real estate techniques," he said. "We're looking at all the various techniques in the marketplace now."
Take the New York Times deal. What started as anything but a real estate deal soon turned into a sale and leaseback deal, as well as bond trades, that in 2009 earned Mr. Rotchford and his colleagues the Real Estate Board of New York's Edward S. Gordon award.
It was soon after Mexican billionaire Carlos Slim began investing in New York Times stock-and later engaged in a business relationship with the broadsheet-that its board tapped Mr. Rotchford, near the market's nadir, to investigate how best to save money on other financings. With interest rates sky-high for most corporate clients, Mr. Rotchford inked a solid sales-leaseback deal in 2009 that boasted a repurchase option that ensured that The Times had a lower cost of capital than it would have arranged across the public markets.
"It was great working with The Times as my client because they understood what we were trying to accomplish, how we were going to accomplish it and what the pricing benefits were," said Mr. Rotchford, who explained that the real estate was the collateral in a deal that, ultimately, ended with liquidity at a lower cost. "It's worked out tremendously well for everybody."
MR. ROTCHFORD WAS born in Syracuse, but moved to Stony Point, in Rockland County, as a child. He later wandered to the Albany area, where he attended high school in Schenectady.
Throughout his travels, Mr. Rotchford settled down to study economics and computer science at SUNY Albany, and, after graduating just three years later, took a job in the city with JPMorgan.
"I'm one of those who never went to business school, and I never got that advanced degree," Mr. Rotchford said. "I just jumped right in the business."
Following his late 1970s stint at JPMorgan, where he specialized in asset-based financing, he shifted first to Dean Witter and then Merrill Lynch, where he served as a director of the firm's Real Estate Investment Banking Group. In 1991, he formed the Saratoga Group, an investment-banking boutique that specialized in corporate and real estate financing.
As his company grew, Mr. Rotchford began receiving calls from Cushman & Wakefield, which routinely lobbed its interest in buying the boutique. It was amid a coordinated deal with the brokerage, however, that the entrepreneur first took seriously the courtship with Cushman.
"There was a guy at Cushman who would call me up every year to ask, 'So, when are you going to come over here?'" said Mr. Rotchford.
He joined 11 years ago.
For a man who has built his career on solving complex financial puzzles, its not entirely surprising to hear that Mr. Rotchford is perhaps the least athletic among the members of his family. Indeed, while two of his three children excel in tennis, playing regularly near their home in Saratoga Springs, the father warily admitted last week that his proclivity toward numbers has always trumped his athletic prowess.
"I stink at sports," Mr. Rotchford said. For me, it was always either numbers or sports-one or the other. And my financing experiencing won out."
jsederstrom@observer.com