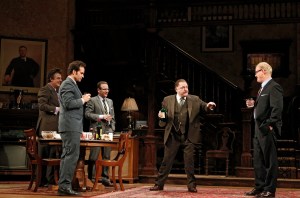 Decades ago, a prize was won. Its winners have reveled since in their triumph. In the here and now, though, the victory is revealed to be hollow, and the victors still celebrating it, empty.
This is the crux of That Championship Season, which debuted at Joseph Papp's Public Theater in 1972, was transferred to Broadway later that year, and the next spring won both the best play Tony and the Pulitzer Prize for drama.
It is also the story of That Championship Season, which opened in a star-studded but disappointingly lackluster revival at the Bernard B. Jacobs Theatre Sunday night. Jason Miller's play was once a champion–it became a well-regarded 1982 film, with another all-star cast–but what's now onstage at the Jacobs is forgettable, maudlin, overly tidy and dramatically unconvincing. Like its characters, it has reached middle age, and like them, middle age doesn't look good on it.
The scene is a worn Victorian living room someplace in blue-collar Pennsylvania. It's 1972, and four members of the 1952 state-champion high-school basketball team are gathered at Coach's house to commemorate that great win, to drink and brag, as they do every year. They were, we're told, a legendary squad.
Twenty years later, they're still tight, big men in their small city. George is the mayor, up for reelection, mildly corrupt and mildly competent. Phil is a successful businessman, making money by polluting the city, paying George with campaign donations so the government looks the other way, driving fast cars and sleeping around. James is dedicated but dutiful, George's campaign manager and a junior-high principal, feeling trapped in his job. Tom, his brother, is a charming alcoholic who bounces from city to city. And then there's Coach, to whom they all still turn for guidance, a petty but inspiring bigot with no family of his own, obsessed with the past, from that championship to Teddy Roosevelt to Joe McCarthy. As the evening progresses, they'll get drunk, reveal truths, confess doubts, hug and make up. It's a play about simple men adrift in a rapidly changing America, astonished and dismayed that a Jewish environmentalist could potentially unseat good old Mayor George.
Ah, the past. When That Championship Season opened at the Public in 1972, Clive Barnes called it in The New York Times "the perfect Broadway play of the season, perfectly acted and perfectly staged" (with the asterisk that "it happens not to be on Broadway"). So how come it's now so far from perfect?
Perhaps it's because the play is so predictable. From searing classics like Who's Afraid of Virginia Woolf? to amiable trifles like A Perfect Future, which recently came and went Off Broadway, the drunken-night-of-revelation genre is well worn. None of the revelations are particularly surprising, as the script dutifully rotates through its players, giving each an opportunity for his crisis. In fact, the only surprise might be that these men, who betray each other in turn, inexplicably end the night as friends again.
Perhaps it's because the world has changed so much. America in 2011 is going through profound transformations, economically, socially, demographically, that are not dissimilar to those buffeting northeastern Pennsylvania in 1972. But in facing our own problems, it is hard to have sympathy for a bunch of corrupt racists, high-school jocks who discover a winning season doesn't guarantee a winning life.
And perhaps it's because this Championship cast never melds into an effective whole. Clive Barnes called the original ensemble "simply the best of the season," and maybe if the current group could become a convincing band of brothers, its disintegration would be meaningful. But director Gregory Mosher, who did such excellent work last season in A View From the Bridge, allows his high-profile cast to display such a range of acting styles that the men barely appear to be in the same play, and certainly not on the same team.
The estimable Brian Cox is Coach, and he plays the character that represents the past as an actor from another era. His performance is all oration and sputtering, a high-energy vaudeville routine disconnected from the others' naturalism. Jason Patric, whose father wrote the play, portrays Tom as a 21st-century ironist, a wise drunk who comments on the scene with wry detachment, never making himself present, not even when he's the focus of attention.
In the middle are Kiefer Sutherland as James, Chris Noth as Phil and Jim Gaffigan as the mayor, who all manage to get it right: They effectively portray stolid, all-American Real Men, from a time when all-American Real Men took the role seriously. Sure, Mr. Sutherland is miscast–Jack Bauer shouldn't try for nebbish–but he does all right. Mr. Noth is spot-on as the slick, rich nihilist, a role for which he has plenty of practice.
The revelation is Mr. Gaffigan, best known as a comic and making his Broadway debut. He's charismatic while playing a loser, sensitive in playing a boor. He, here, is perhaps the only champion.
There are many things to admire about Good People, a very funny and very serious drama about class and conflict in Boston that opened in a Manhattan Theatre Club production at the Samuel J. Friedman Theatre last week. Chief among them is its very good people.
It is written by David Lindsay-Abaire, whose Rabbit Hole debuted at the Friedman five seasons ago, won the Pulitzer, and became a film this winter. It stars Frances McDormand, who has a big enough name to help lure ticket-buyers while also being an excellent theater actress, here giving an anguished and moving performance as Margie, with a hard G, the Irish Catholic single mother at the center of the play. And it is directed by Daniel Sullivan, who, as he did with Donald Margulies' Time Stands Still at the same theater last year, assembles a talented and coherent cast and uses them to make a good play great.
This is not the emotional tour de force that is Rabbit Hole, but it is a compelling and clear-eyed work, a portrait of proud and tribal South Boston, a struggling woman who knows she's stuck there and one guy–her high-school boyfriend, now a doctor–who made it out. It's a smart exploration of American class divides, so often ignored or smoothed over, and it raises unanswerable question about what makes a good person.
But the greatest pleasure comes in just watching the actors: Ms. McDormand as Margie, both steely and vulnerable; Tate Donovan as the ex-boyfriend-made-good, a charmer with the old-neighborhood edge buried under his Ivy League veneer; Renée Elise Goldsberry as his wife, a privileged woman with her own problems, trying hard not to condescend to an interloper she'd though was the help; Becky Ann Baker as Margie's best friend, tough as nails; Patrick Carroll as the lifelong acquaintance forced to fire her; and, most memorably, the incomparable Estelle Parsons as her blowsy, canny battle axe of a landlady.
It is, you might say, one of the best ensembles of the season.
editorial@observer.com