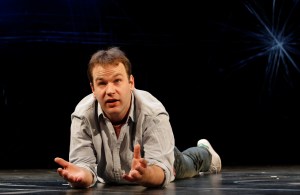 The comedian Mike Birbiglia was sitting on a sagging couch in the basement of the Barrow Street Theater, dragging wedges of pita bread through an oily tub of hummus and popping them into his mouth. An open jar of peanut butter and an empty banana peel lay nearby beside an open MacBook, on which Mr. Birbiglia, 32, who sported the slightly rumpled look of someone either freshly napped or desperately in need of sleep, was reviewing potential press photos for his new Off Broadway one-man show, My Girlfriend's Boyfriend, with the play's director, Seth Barrish. In just over an hour Mr. Birbiglia would perform his seventh sold-out preview. He had spent the afternoon agonizing over a single line that he felt needed tweaking.
The line in question was about the first time Mr. Birbiglia met his wife, Jen Stein (who, if My Girlfriend's Boyfriend is any evidence, has put up with a lot over the years, including the infamous sleep disorder that inspired her husband's first one-man show–and subsequent New York Times best-selling book of the same title–Sleepwalk With Me). The Observer attended the first preview on March 18 and heard the line as follows: "From the moment I met Jenny, I knew I wanted to sleep with her at least once. I don't mean that in a crude way." It got a big laugh. But Mr. Birbiglia wasn't satisfied. "For whatever reason, the word 'crude' doesn't feel quite right," he said, tearing off another hunk of pita. "Seth and I talked and finally came up with a new version, which is, 'From the moment I met Jenny, I knew I wanted to sleep with her at least once–stay with me–I mean that in a meaningful way.'" This, apparently, got an even bigger reaction. "Laugh lines are like a delicate kind of art form of trial and error over months, sometimes years," Mr. Birbiglia said.
In addition to touring the country doing stand-up, Mr. Birbiglia makes regular appearances on This American Life, and a piece he read for the radio show in 2009 served as the seed for My Girlfriend's Boyfriend. The vignette–still central to the play's structure–is about a 2007 car accident that made Mr. Birbiglia realize he wanted to marry Ms. Stein, then his on-again, off-again girlfriend. Mr. Barrish, who also directed Sleepwalk With Me, told Mr. Birbiglia at the time, "This piece is a show. It feels like we haven't even scratched the surface." Like most of Mr. Birbiglia's work, the car-accident scene is a poignant personal story told through the lens of comedy, but delving into the topic of love for the duration of a 70-minute show is a departure from his usual stand-up fodder, which ranges from his parents' pornographic computer viruses to the time he unknowingly mocked a blind man. "I always felt like there's the saccharine version of love in film and theater, and then there's the aggressively dark version of love in film and theater," Mr. Birbiglia, who grew up in Shrewsbury, Mass., said. "And I just wanted to write something from my perspective, which is, I think, somewhere in between–earnest but real."
For the record, Mr. Birbiglia insists that Ms. Stein gave him her blessing to do the show, which offers windows into their relationship interspersed with other threads charting Mr. Birbiglia's often awkward romantic history (key moments include vomiting on a carnival ride and meeting, as the show's title suggests, another guy who was sleeping with his high-school girlfriend). "Jen's very shy, so I think she was a little bit concerned about me saying stuff about her onstage that people close to her don't even know," he said. "Sometimes that's an issue. I'll say things publicly that, like, she doesn't even tell her family, and then all of a sudden they're calling, like, 'You do what?'"
"Like the crack story," Mr. Barrish said.
"No, he's kidding," Mr. Birbiglia shot back quickly.
Imaginary drug use notwithstanding, Ms. Stein was instrumental in conceiving an inspired epilogue involving a strobe light that was added just days before previews began; as evidenced by their obsessive tinkering, Mr. Birbiglia and Mr. Barrish don't subscribe to the unwritten theater rule that after opening night, the show must go on without further changes. "I bet The Lion King cast probably sticks to their cues pretty closely once they lock it in," Mr. Birbiglia laughed. "But the luxury of a one-person play is that your actor won't disagree with the writing changes."
My Girlfriend's Boyfriend opens March 31 and runs through mid-May at the Barrow Street Theater.
ulamarche@observer.com